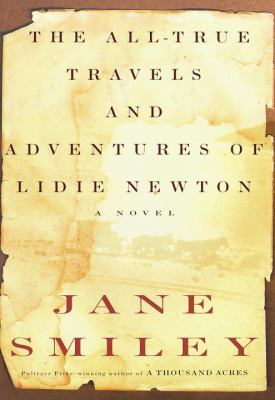 The All-True Travels and Adventures of Liddie Newton
by Jane Smiley


Library Journal A woman whose abolitionist husband is murdered in 1850s Kansas cuts her hair and tracks his killers to Missouri. A 200,000-copy first printing.
Copyright © Reed Business Information, a division of Reed Elsevier Inc. All rights reserved.
Publishers Weekly An immensely appealing heroine, a historical setting conveyed with impressive fidelity and a charming and poignant love story make Smiley's (A Thousand Acres) new novel a sure candidate for bestseller longevity. Lidie Harkness, a spinster at 20, is an anomaly in 1850s Illinois. She has an independent mind, a sharp tongue and a backbone; she prefers to swim, shoot, ride and fish rather than spend a minute over the stove or with a darning needle. That makes her the perfect bride for Bostonian abolitionist Thomas Newton, who courts and marries her in a few days while enroute to Lawrence, K.T. (Kansas Territory), with a box of Sharps rifles. As the newlyweds gingerly come to know each other, they are plunged into the turmoil between pro-slavery Border Ruffians from Missouri and K.T. Free Staters, an increasingly savage conflict that presages the Civil War. Smiley evokes antebellum life with a depth of detail that easily equals Russell Banks's exploration of the same terrain in Cloudsplitter (Forecasts, Dec. 1, 1997). Her scenes of quotidian domesticity on the prairie are as engrossing as her evocation of riverboat travel on the Mississippi. Through an exquisite delineation of physical and social differences, she distinguishes and animates settings as diverse as Lawrence, Kansas City, St. Louis and New Orleans. As Lidie and Thomas experience privation, danger and the growing pleasures of emotional intimacy, and as tragedy strikes and Lidie pursues a perilous revenge, Smiley explores the complex moral issues of the time, paying acute attention to inbred attitudes on both sides of the slavery question. Propelled by Lidie's spirited voice, this narrative is packed with drama, irony, historical incident, moral ambiguities and the perception of human frailty. Much of its suspenseful momentum derives from Smiley's adherence to plausible reality: this is not a novel in which things necessarily turn out right for the heroine, for women in general, for blacks or for the righteous. Lidie's character deepens as she gains insight into the ambiguous and complex forces that propel men and women into love and compassion, hatred and violence. In the end, this novel performs all the functions of superior fiction: in reading one woman's moving story, we understand an historical epoch, the social and political conditions that produced it and the psychological, moral and economic motivations of the people who incited and endured its violent confrontations. 200,000 first printing; Random House audio. (Apr.)
Copyright © Reed Business Information, a division of Reed Elsevier Inc. All rights reserved.
Book list Each of Smiley's three most recent novels is a radical departure from the last. She dramatized midwestern farm life in A Thousand Acres (1991), satirized academia in Moo (1995), and now brings her acumen and magic to historical fiction, transporting her expectant readers back in time to the frenetic years leading up to the Civil War. The story begins in Quincy, Illinois, where 20-year-old Lidie has to decide what to do with her life. Tall, plain, athletic, she has zero tolerance for the severe limitations imposed on her sex and is extremely skeptical of marriage, but when Thomas Newton, a self-possessed New England abolitionist, comes to town on his way out to the Kansas Territory, she responds without hesitation to his suit. Thrilled to be off on an adventure, she doesn't stop to wonder why her husband values her fearlessness and skill with horse and gun over her feminine wiles, but she finds out soon enough. Kansas is a rough and violent place, and abolitionists are a despised and endangered breed. Their life is one of deprivation and danger, but Lidie, an entrancing narrator, finds marriage every bit as challenging as poverty, winter, and war. Tragically, she doesn't get a chance to learn what love really is because Thomas is murdered within the year. A bit mad with grief and determined to exact revenge, Lidie disguises herself as a man, but she soon realizes that few things are as simple as fanatics make them out to be. Gloriously detailed and brilliantly told, this is a hugely entertaining, illuminating, and sagacious vision of a time of profound moral and political conflict, and of one woman's coming to terms with the perilous, maddening, and precious world. --Donna Seaman
From Booklist, Copyright © American Library Association. Used with permission.