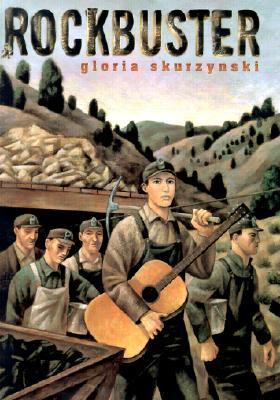 Rockbuster
by Gloria Skurzynski,


Book list Gr. 6-12. On a trip to watch the trial of union organizer Big Bill Haywood, 10-year-old Tommy accidentally blows his pro-union uncle's cover and witnesses Uncle Jim's being dragged away and killed. Six years later, when union songwriter Joe Hill, the "voice" of Industrial Workers of the World, is unfairly convicted of murder and set to be executed in front of a firing squad, Tom, now 16 and a singer-songwriter himself, is asked to replace Hill as the coal miners' pro-union voice and conscience. The opportunity forces him to decide between his loyalties to his socialite girlfriend, Eugenie, and the union that has affected his past, his family, and, with the outbreak of World War I, seemingly the world. Skurzynski's historically based novel is a page-turner from beginning to end. Tom is honorable yet never saccharin, and there's real drama in the fact-based trials of Haywood and Hill. Skurzynski's characters are vibrant, their story is memorable, and a little-known episode in American history gets some needed attention. --Roger Leslie
From Booklist, Copyright © American Library Association. Used with permission.
Publishers Weekly Skurzynski's (Spider's Voice) taut historical novel examines the plight and maturation of a boy caught in the crossfire of the early labor movement. Spanning eight years, the novel opens in 1907, when 10-year-old Tommy travels with his charming Uncle Jim from their Utah coal mine home to Boise, Idaho, to secretly deliver funds to help with union leader Big Bill Haywood's trial. However, when Tommy inadvertently reveals his uncle's identity (he's prominent in the union) to Pinkerton detectives, Jim is hustled off the train and later found dead. Tommy blames himself for Jim's death: "He would keep the terrible truth locked inside himself until the day they lowered him into his own grave." Tommy leaves school to work in the mines and help support himself and his mother, and in his relatively protected job as trapper boy he practices guitar, a talent which ultimately earns extra money and some fame. As Tom progresses from trapper to rockbuster, boy to man, Skurzynski effectively portrays the conflict, acrimony and even hypocrisy of the early union movement. When Wobbly songster Joe Hill, sentenced to death on a trumped-up murder charge, asks Tom to play at his funeral and take up his role in the movement, Tom must decide how he can best make a difference and how it will affect his romance with the mine owner's daughter. Readers will admire Tom for finding his own path to help ameliorate inequity and injustice. Ages 12-up. (Oct.) Copyright 2001 Cahners Business Information.
Copyright © Reed Business Information, a division of Reed Elsevier Inc. All rights reserved.
School Library Journal Gr 6-10-After the deaths of his father and uncle, Tommy Quinlan goes to work in the coal mines to help support his mother and himself. Since his job as a trapper involves periodic activity, he uses the quiet time to teach himself the guitar. He eventually becomes a laborer and after years of practicing his instrument, the teen begins to play at local gatherings to supplement the family's income. It is at one of these that he meets the mine owner's daughter, and they begin a stolen romance. Though Tommy loves Eugenie, he finds himself resentful of their class differences. His friends among the union supporters urge him to take a more active part and they call upon him to perform the rousing songs of the labor movement. When Joe Hill, the beloved union songwriter who has been unjustly convicted of murder and condemned to death, calls upon Tommy to become his successor, the boy must decide where his loyalties lie. This finely crafted and richly detailed coming-of-age story is made both distinctive and universal as readers follow Tommy's maturation. Skurzynski's research into the lives of Utah miners in the early 20th century and the efforts of workers to organize becomes evident in her convincing portrayal of their world, their cares, and their struggles. Rockbuster is an engaging story of self-discovery that teens will relate to on many levels.-Heather Dieffenbach, Lexington Public Library, KY Copyright 2001 Cahners Business Information.
Copyright © Reed Business Information, a division of Reed Elsevier Inc. All rights reserved.