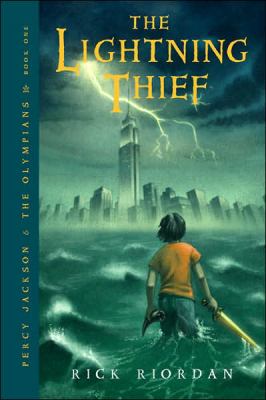 The lightning thief
by Rick Riordan.


School Library Journal Gr 5-9-An adventure-quest with a hip edge. At first glance, Perseus Jackson seems like a loser (readers meet him at a boarding school for troubled youth), but he's really the son of Poseidon and a mortal woman. As he discovers his heritage, he also loses that mother and falls into mortal danger. The gods (still very active in the 21st-century world) are about to go to war over a lost thunderbolt, so Percy and sidekicks Grover (a young satyr) and Annabeth (daughter of Athena) set out to retrieve it. Many close calls and monster-attacks later, they enter Hades's realm (via L.A.). A virtuoso description of the Underworld is matched by a later account of Olympus (hovering 600 floors above Manhattan). There's lots of zippy review of Greek myth and legend, and characters like Medusa, Procrustes, Charon, and the Eumenides get updates. Some of the Labors of Heracles or Odysseus's adventures are recycled, but nothing seems stale, and the breakneck pace keeps the action from being too predictable. Percy is an ADHD, wise-cracking, first-person narrator. Naturally, his real quest is for his own identity. Along the way, such topics as family, trust, war, the environment, dreams, and perceptions are raised. There is subtle social critique for sophisticated readers who can see it. Although the novel ends with a satisfying conclusion (and at least one surprise), it is clear that the story isn't over. The 12-year-old has matured and is ready for another quest, and the villain is at large. Readers will be eager to follow the young protagonist's next move.-Patricia D. Lothrop, St. George's School, Newport, RI Copyright 2005 Reed Business Information.
Copyright © Reed Business Information, a division of Reed Elsevier Inc. All rights reserved.
Book list Gr. 6-9. The escapades of the Greek gods and heroes get a fresh spin in the first book in the Percy Jackson and the Olympians series, about a contemporary 12-year-old New Yorker who learns he's a demigod. Perseus, aka Percy Jackson, thinks he has big problems. His father left before he was born, he's been kicked out of six schools in six years, he's dyslexic, and he has ADHD. What a surprise when he finds out that that's only the tip of the iceberg: he vaporizes his pre-algebra teacher, learns his best friend is a satyr, and is almost killed by a minotaur before his mother manages to get him to the safety of Camp Half-Blood--where he discovers that Poseidon is his father. But that's a problem, too. Poseidon has been accused of stealing Zeus' lightning bolt, and unless Percy can return the bolt, humankind is doomed. Riordan's fast-paced adventure is fresh, dangerous, and funny. Percy is an appealing, but reluctant hero, the modernized gods are hilarious, and the parallels to Harry Potter are frequent and obvious. Because Riordan is faithful to the original myths, librarians should be prepared for a rush of readers wanting the classic stories. --Chris Sherman Copyright 2005 Booklist
From Booklist, Copyright © American Library Association. Used with permission.
Publishers Weekly A clever concept drives Riordan's highly charged children's book debut (the first in a series): the Greek Gods still rule, though now from a Mt. Olympus on the 600th floor of the Empire State Building, and their offspring, demigods, live among human beings. Narrator Percy Jackson thinks he's just another troubled 12-year-old, until he vaporizes his math teacher, learns his best friend, Grover, is a satyr and narrowly escapes a minotaur to arrive at Camp Half-Blood. After a humorous stint at camp, Percy learns he's the son of Poseidon and embarks on a quest to the Underworld with Grover and Annabeth (a daughter of Athena) to resolve a battle between Zeus and Poseidon over Zeus's stolen "master" lightning bolt. Without sacrificing plot or pacing, Riordan integrates a great deal of mythology into the tale and believably places mythical characters into modern times, often with hilarious results (such as Hades ranting about the problem of "sprawl," or population explosion). However, on emotional notes the novel proves less strong (for example, Percy's grief for his mother rings hollow; readers will likely spot the "friend" who betrays the hero, as foretold by the Oracle of Delphi, before Percy does) and their ultimate confrontation proves a bit anticlimactic. Still, this swift and humorous adventure will leave many readers eager for the next installment. Ages 10-up. (July) Copyright 2005 Reed Business Information.
Copyright © Reed Business Information, a division of Reed Elsevier Inc. All rights reserved.