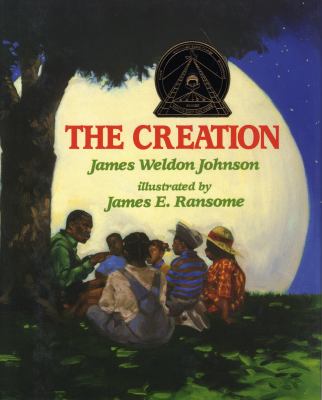 The Creation
by James Ransome


Book list Ages 5-9. Illustrating Johnson's poem "The Creation," written in 1919, is not as easy as it might first appear. The usual grand, somewhat abstract depictions of the first seven days aren't a good match for the colloquial tone of this verse. Here, the chills-down-your-spine feeling grows slowly as the notes of concrete imagery build to a crescendo of elemental grandeur. Ransome's illustrations come as close as any could to getting it right. Three sorts of pictures appear: double-page spreads illustrating scenes from nature with a bright, morning-of-the-world quality; sedate borders for the text, featuring repeated animal motifs; and opposite the text, views of a black man sitting under a tree and telling "The Creation" to a circle of children, all enthralled by the storyteller. In turn, these sun-dappled scenes will capture the attention of children who have the good fortune to meet the poem in this unusual and thoughtful setting. The artist's painterly style interprets the natural world with sensitivity, but the strength of his illustrations is that he found a way to reflect the storyteller's voice, the distinguishing quality of the poetry. ~--Carolyn Phelan
From Booklist, Copyright © American Library Association. Used with permission.
School Library Journal Gr 1-4-An earlier edition of Johnson's fine poem of the Harlem Renaissance failed to find illustrations to match its excellence (Little, 1993). Ransome, however, has given its verbal artistry powerful visual expression. Double-page spreads of scenes from the Creation-light, earth, water, vegetation, animals, humans-alternate with the poem. Displays of text appear on the right-hand pages, bordered with repeated animal motifs. Opposite them are paintings of a storyteller under a shady tree, giving what is clearly an animated performance to a group of children. The intimacy and relative predictability of these scenes contrast effectively with the splendid movement and spacious surprises of the alternates. The division of the poem into pages is well paced, and there is a satisfying buildup to the last spread, depicting a man the ruddy brown of Georgia clay rising from a flowering meadow. The artist has avoided the pitfall of trying to show God at work, while providing a perfect creative stand-in, the benign storyteller. This book combines the sense of awe and nobility at creation with respect and wonder at human participation. It should make Johnson's poem better known, while showcasing Ransome's impressive talent.-Patricia Dooley, formerly at University of Washington, Seattle
Copyright © Reed Business Information, a division of Reed Elsevier Inc. All rights reserved.