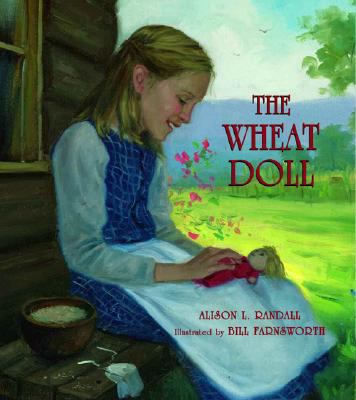 The wheat doll
by Alison L. Randall ; illustrated by Bill Farnsworth.


Book list Based on events that took place in rural nineteenth-century Utah, this story should resonate with twenty-first-century children who have grown deeply attached to a doll or stuffed animal. In her picture-book debut, Randall tells of Mary Ann, a little girl whose prize companion is a cloth doll filled with wheat; she carries Betty in her apron pocket and talks to her as she goes about her chores. When the doll gets lost outside in a storm, Mary Ann is bereft, calling and hunting, the garden blurred by her tears. The melodrama of these pages may seem overcooked to an adult, but Randall soon rewards young readers with the recovery of the lost friend: during planting season, Mary Ann spots a patch of green shoots sprouting from the mud, harvests the kernels of grain, and restores Betty to her former self. Farnsworth's oil paintings and the overall book design possess an unhurried, old-fashioned quality; and they complement Randall's simple, heartfelt story.--Nolan, Abby Copyright 2008 Booklist
From Booklist, Copyright © American Library Association. Used with permission.
School Library Journal Gr 1-4-Mary Ann is a pioneer girl who lives on a rustic Utah farm with her mother and father. Her best friend is her homemade wheat-filled doll. One day Mary Ann sets Betty on a stump while she pulls carrots in the garden. Suddenly a storm sweeps across the valley, and Mary Ann's parents hurry her into the safety of the cabin. After the storm, the girl searches everywhere but she cannot find her beloved doll. Mary Ann is lonely without it all winter, but in spring she discovers a doll-shaped patch of wheat sprouting from the mud near where the toy was lost. She tends the sprouts and makes a new doll from the grains. This is a sweet story of loss and renewal told with empathy and feeling that is never heavy-handed. There is just the right amount of detail to make the setting seem real without bogging down the narrative. Farnsworth's realistic oil paintings have a warm, soft quality that matches the tone of the text. Like the author, he adds just enough detail to establish the setting without distracting from the main subject. This picture book is a great addition to all collections, but has special appeal to libraries in areas with a pioneer heritage.-Donna Cardon, Provo City Library, UT Copyright 2008 Reed Business Information.
Copyright © Reed Business Information, a division of Reed Elsevier Inc. All rights reserved.