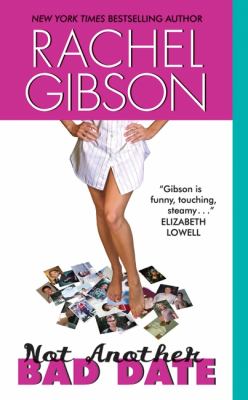 Not another bad date
by Rachel Gibson.


Publishers Weekly This yummy lovefest from Gibson (after Tangled Up in You) focuses on a familiar dilemma: how to end bad luck in love. At 35, successful Idaho SFF novelist Adele Harris has had it with losers who make fun of her "big fat ass." She feels cursed--and she was, by old rival Devon Hamilton-Zemaitis, who stole Adele's first love, football star Zach Zemaitis. When Devon dies following an accident, she must remove the curse that's prevented Adele's happiness so she can go to heaven. Meanwhile, Adele gets a frantic call from older sister Sherilyn, who's divorcing her husband and has moved back to their old hometown of Cedar Creek, Tex.--where Zach now coaches high school football, and where Sherilyn needs help with her 13-year-old. Gibson keeps the action light but dead-on delicious in Adele's and Zach's sizzling second-chance-at love. (June) Copyright 2008 Reed Business Information.
Copyright © Reed Business Information, a division of Reed Elsevier Inc. All rights reserved.
Book list Adele Harris is reluctant to go anywhere near Cedar Creek, the west Texas town where she grew up, but when her pregnant sister's husband runs off with his assistant, she goes home to help. Adele left because sexy football player Zach Zemaitis, with whom she had a passionate relationship in college, married a society girl. She's now shocked to find out that Zach, retired from the NFL, is at home in Cedar Creek, coaching high-school football. Adele has sworn off men and dating, believing she's somehow cursed, but each time Adele and Zach come into contact with each other, it's obvious that the fire between them wasn't entirely doused. Will giving in to her feelings for Zach break her curse, or just extend it? And why are they still attracted to each other after so many years? Gibson's straightforward story of  the one, and the one that got away, is wrapped in sexual tension so hot your palms will sweat.--Hatton, Hilary Copyright 2008 Booklist
From Booklist, Copyright © American Library Association. Used with permission.