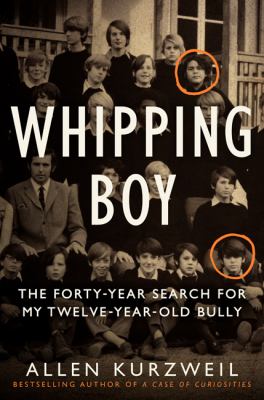 Whipping Boy: The Forty-Year Search for My Twelve-Year-Old Bully
by Allen Kurzweil


Publishers Weekly Childhood trauma fuels an adult obsession and an exploration of a flamboyant criminal caper in this rollicking but unfocused memoir. Novelist Kurzweil (A Case of Curiosities) was bullied by a roommate named Cesar Augustus at a tiny Swiss boarding school-being whipped with a belt is the worst outrage-and later in life set out to learn what had become of his tormentor. He discovered after many years that Cesar had gone to prison for his involvement in investment fraud. Cesar is a marginal figure through much of the book, and when we finally meet him, his impact is underwhelming; he comes off as an evasive and self-deluding hollow man with a repertoire of pathetic shady business ventures. But Kurzweil crafts an entertaining, sharply reported picaresque centering on the colorful leaders of the scam, who bamboozled their marks by posing as monocled European aristocrats and produced a fake deed from the fictional King of Mombessa, and on the investigators who caught them. The psychodrama between Kurzweil and Cesar doesn't have much emotional payoff, but it makes a serviceable hook for a comic-opera true crime saga that's ripe with hilarious humbuggery. Photos. Agent: Liz Darhansoff, Darhansoff & Verrill. (Jan.) © Copyright PWxyz, LLC. All rights reserved.
(c) Copyright PWxyz, LLC. All rights reserved
Book list Many people faced bullies as children. Not many have devoted considerable time and energy to tracking them down as adults. But that's just what author Kurzweil did, uncovering a remarkable tale of fraud, which he recounts in this plainspoken and earnest book. Decades after enduring abuse at the hands of his 12-year-old roommate, Cesar Augustus, at a Swiss boarding school, Kurzweil endeavors to track him down. The hunt, through thousands of pages of legal documents that fill milk crates and through encounters with unwilling or unhelpful contacts, reads like an engrossing detective story. Kurzweil is, by his own admission, a man obsessed. His emotions take a backseat to describing his investigatory feats, which lead him to a wide-ranging, multimillion-dollar scam in which Cesar played a role. More important than even the scam and the man Cesar became, however, is the poignant way that Kurzweil strives to get an explanation for the bully's bad behavior in order to heal the wounds he's carried since school. The story will resonate with anyone who had a Cesar growing up, as so many did.--Thoreson, Bridget Copyright 2015 Booklist
From Booklist, Copyright © American Library Association. Used with permission.
Library Journal Novelist Kurzweil (A Case of Curiosities) has given us a story too strange not to be true. As a ten-year-old attending boarding school in Switzerland, he was the victim of an especially cruel bully with the improbable name of Cesar Augustus. Then one day, Cesar was gone. Kurzweil finished out the year, and he too left the school, never to return. But he is nagged by memories of Cesar, and with his wife's encouragement, he begins to search for him. In the process he comes across a financial scheme that makes Bernie Madoff's look positively banal. One of the major players in the scheme is Cesar, whom Kurzweil eventually confronts. One flaw of the book is that, though what Cesar is described as having done to Kurzweil is horrendous, we are given an inadequate subjective or introspective sense of how the bullying made Kurzweil feel as an adult. For a memoirist, he is unusually distant from himself, making Cesar and his fellow schemers the true subject of this book. In that sense, Cesar still has the final word. VERDICT Criticisms of this memoir qua memoir aside, Kurzweil paces his book beautifully and it is recommended even for those who normally don't read nonfiction or memoirs. It moves like a thriller, is very funny, and in the right hands, would make a great movie. [See Prepub Alert, 7/7/14.] (c) Copyright 2015. Library Journals LLC, a wholly owned subsidiary of Media Source, Inc. No redistribution permitted.
(c) Copyright Library Journals LLC, a wholly owned subsidiary of Media Source, Inc. No redistribution permitted.