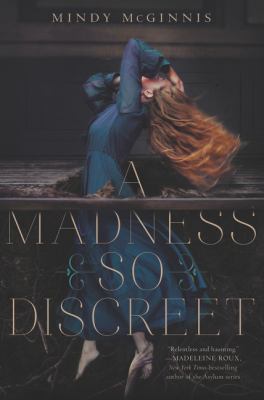 A Madness So Discreet
by Mindy McGinnis


School Library Journal Gr 9 Up-This compelling historical thriller opens with Grace Mae impregnated by her own father and locked away in a horrific asylum, mute and sealed within her own mind. She wishes for death, seeing herself as an empty husk, a vessel only for the life within. When she is pushed too far by the barbarous staff, she reacts violently, leading to the loss of her baby and being sent to die in a basement dungeon. She is discovered by a visiting doctor who sees within Grace the ability to help him in his work solving crime through criminal profiling. Grace is secreted away from Boston to Ohio, where though still in an insane asylum, her life is vastly improved. There she makes friends with a group of realistically complex characters, and assists Dr. Thornhollow in his work. Grace comes to terms with her life, and discovers what she can change, and how to survive that which she cannot. Though she continues to be entrapped in silence most of the time, she manages to make human connections, eventually using them to face her demons. Sympathetic characters make questionable moral choices, perhaps justified by their lack of power to effect change in a direct way. Grace's personal struggles to find her own place and influence her own story mirror the historical struggles of women throughout history. VERDICT Fans of period pieces and crime dramas will be pleased with this haunting tale.-Genevieve Feldman, San Francisco Public Library © Copyright 2015. Library Journals LLC, a wholly owned subsidiary of Media Source, Inc. No redistribution permitted.
(c) Copyright Library Journals LLC, a wholly owned subsidiary of Media Source, Inc. No redistribution permitted.
Book list Dumped in an insane asylum by the father who raped and impregnated her, Grace sees no way out until she meets Dr. Thornhollow. But instead of the gift of oblivion that he gives so many other patients, he offers to secret her out of the asylum in exchange for using her observational skills to help him catch murderers. Grace's new life is better, but a serial killer and the reappearance of Grace's father force her to grapple with the question of who is really mad and who is simply trapped by circumstance. Readers hoping for high tension may be slightly disappointed, but those interested in thinking about characters' feelings and motivations will find much here to digest. Though told from Grace's perspective, the story gives insight into many characters, leaving none of them wholly good or wholly evil. While some of the time shifts are rather abrupt and a few plot twists could use fleshing out, overall, this frank historical thriller features flawed, yet sympathetic, characters and a unique setting.--Wildsmith, Snow Copyright 2015 Booklist
From Booklist, Copyright © American Library Association. Used with permission.