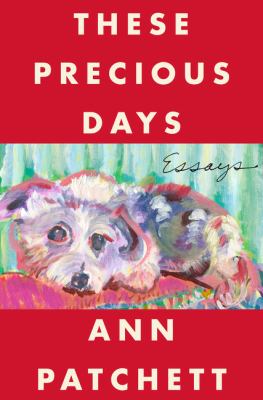 These Precious Days
by Ann Patchett


Book list Patchett, whose most recent novel is The Dutch House (2019), is an exhilarating and provocative essayist. This substantial autobiographical collection builds on This Is the Story of a Happy Marriage (2013), excavating the sources of her covert ferocity and intense literary passion. Her family tales include a portrait of her three fathers; one tried to dissuade her from becoming a writer, another hoped to follow in her footsteps. Mischievously funny and nimbly incisive, Patchett celebrates her close friendship with a nun; pays tribute to an unlikely muse, Snoopy; explains why she doesn't have children, then describes how much fun she's had collaborating on children's books with best-selling illustrator Robin Preiss Glasser. Patchett elucidates all that running Parnassus Books in Nashville has done for her. In the enthralling title essay, she tells the many-faceted story of how she met Tom Hanks' assistant, artist Sooki Raphael, and how Sooki ended up staying with Patchett and her doctor-pilot husband as Sooki battled cancer during the COVID-19 pandemic. Breathtakingly candid, Patchett attains graceful velocity and tilt, her vibrant sentences serving as divining rods for piquant life lessons.
From Booklist, Copyright © American Library Association. Used with permission.
Library Journal In this essay collection, the New York Times best-selling Pulitzer Prize finalist Patchett reveals the pleasures of the unexpected, looking at her own life to illuminate ours. The title essay, for instance, relates how reading an early galley of actor Tom Hanks's story collection led to a meaningful friendship with his assistant, while "My Three Fathers" maps Patchett's complex interactions with her biological father and the two other fathers she acquired along the way, showing what each has contributed to her life. Elsewhere, she ranges from the particular charms of Kate DiCamillo's children's books and Charles Schulz's Snoopy, to memories of Paris and the joys of knitting. With a 150,000-copy first printing.
(c) Copyright Library Journals LLC, a wholly owned subsidiary of Media Source, Inc. No redistribution permitted.
Kirkus In a series of essays, the beloved novelist opens the door and invites you into her world. As she herself is aware, Patchett has a gift for friendship—never clearer than in the magical and heartbreaking title essay, which made the rounds from friend to friend by way of texted links when originally published in Harper's during the pandemic. (If you haven't read it yet, get ready for Tom Hanks, Kundalini yoga, cancer treatment, and a profound yearning to be a guest in Patchett's Nashville home.) Like This Is the Story of a Happy Marriage (2013), this book contains a mixture of occasional essays and profound ones, all previously published. Patchett includes the text of a wonderful lecture on her "feral" experience in graduate school in Iowa and an introduction written for the collected stories of Eudora Welty that seems as perfect as the stories themselves. In addition to family and friendship—"Three Fathers" and "Flight Plan" are standouts in this category—several essays deal with aspects of the writing life. The author explores the process of managing one's papers and offers various angles on how one comes to the vocation of literature. "Influence," she writes, "is a combination of circumstance and luck: what we are shown and what we stumble upon in those brief years when our hearts and minds are fully open." Patchett also writes delightfully about Snoopy, the cartoon beagle and would-be novelist, first among her literary influences. Toward the end of the book, Patchett digs into Updike, Bellow, and Roth. Perhaps a few of the slighter pieces could have been left out, but even those have great lines and interesting paragraphs. A bracingly testy essay about the author's decision not to have children will give readers crucial pointers on conversational gambits to avoid should you ever get that houseguest invitation. An enviable life shared with candor, emotion, and knockout storytelling power. Copyright © Kirkus Reviews, used with permission.
Copyright © Kirkus Reviews, used with permission.
Publishers Weekly In this eloquent collection, novelist Patchett (The Dutch House) meditates poignantly—and often with wry humor—on "what I needed, whom I loved, what I could let go, and how much energy the letting go would take." In "How to Practice," Patchett writes of her "journey of digging out" and the feeling of lightness she begins to notice as she gets rid of possessions. In the title essay, she shares the story of Sooki, Tom Hanks's publicist, whom Patchett invited into her home and offered solace and comfort as Sooki underwent pancreatic cancer treatments: "What Sooki gave me was a sense of order, a sense of God, the God of Sister Nena, the God of my childhood, a belief that I had gone into my study one night and picked up the right book from the hundred books that were there because I was meant to." Other essays cover the lessons Patchett learned on her first Thanksgiving away from home, insights from a year in which she didn't go shopping, and what she's picked up from Snoopy. The elegance of Patchett's prose is seductive and inviting: with Patchett as a guide, readers will really get to grips with the power of struggles, failures, and triumphs alike. The result is a moving collection not easily forgotten. (Nov.)
(c) Copyright PWxyz, LLC. All rights reserved