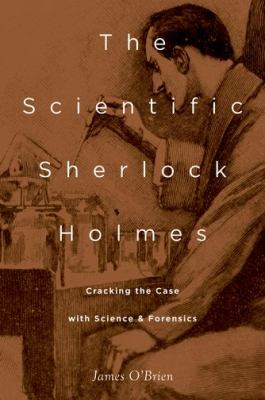 The Scientific Sherlock Holmes: Cracking the Case with Science and Forensics
by by James O'Brien


Publishers Weekly O'Brien, emeritus distinguished professor of chemistry at Missouri State University, delves deep into the science behind Sherlock Holmes in this brief and engaging volume. The book is clearly aimed at Holmes aficionados-each of Sir Arthur Conan Doyle's 60 stories featuring the detective are referenced via accepted Holmesian shorthand (e.g., "ABBE" for "The Abbey Grange")-yet the author treats his subject and his associates (Doctor Watson, the long-suffering Mrs. Hudson, and Holmes's bete noir, Professor Moriarty) with obvious affection, and it's catching-his journey into Sherlockian science is both endearing and informative. O'Brien discusses Holmes's investigative acumen according to categories of evidence (e.g., finger- and footprints, hand- and typewritten documents) and provides interesting real-life examples of crimes solved with similar techniques, such as the New York Zodiac killings and the Lindbergh baby kidnapping. O'Brien, a loyal fellow test-tuber, devotes significant energy to defending Holmes against criticisms that he was a sorry chemist, and while the asides are interesting, the intensely detailed science behind the apologia might turn off casual readers. Nevertheless, the scientific rigor with which both scribe and subject approach their tasks is abundantly evident. Illus. (Jan.) (c) Copyright PWxyz, LLC. All rights reserved.
(c) Copyright PWxyz, LLC. All rights reserved
Book list Combining two popular topics, the uses of science in criminal investigations and literature's most famed detective, O'Brien surveys and appraises the scientific ability of Sherlock Holmes. As he inventories such Holmes-story crime-scene clues as footprints, ciphers, and poisons, O'Brien informs his readers of controversies among Holmes fans concerning their hero's powers of scientific deduction. Sf author Isaac Asimov, for example, criticized Holmes as a bad chemist, which O'Brien, a chemistry professor by occupation, largely refutes, though with concessions to Asimov on particular points. Overall, O'Brien praises Holmes, or rather his creator, Arthur Conan Doyle, as in scientific step with his times, at least until Doyle seemingly killed off Holmes and his archenemy, Dr. Moriarty, in The Final Problem, in 1893. Although Doyle deployed science when he revived Holmes in The Hound of the Baskervilles (1901), O'Brien holds that scientific sophistication degraded in the later stories, which O'Brien links to a lessening in their literary quality, compared to that of the earlier ones. Nevertheless, the scientific intricacies of O'Brien's analyses should pique the timeless interest in the cases of Sherlock Holmes.--Taylor, Gilbert Copyright 2010 Booklist
From Booklist, Copyright © American Library Association. Used with permission.