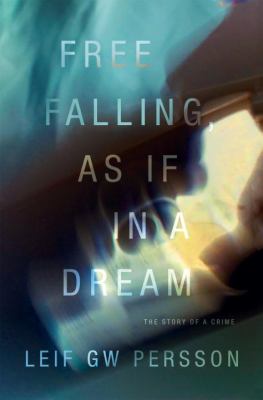 Free Falling As If in a Dream:
by Leif GW Persson


Library Journal Persson concludes his trilogy (Another Time, Another Life; Between Summer's Longing and Winter's End) about the assassination of Swedish prime minister Olof Palme on February 28, 1986, a case that was never solved but now is, though only as fiction. It is a meticulous reconstruction of the investigation of a highly sensitive case, long since past but now reopened. More than any other series of police procedurals today, Persson's exceptional novels show how cops actually pursue a difficult investigation, the thousands of steps and missteps that occur en route. The detectives are competent and human, with interesting quirks; their boss Lars Martin Johannsson, chief of the National Bureau of Criminal Investigation, is a veritable bloodhound once he gets a notion in his head. In the process of narrating this fascinating tale, Persson makes telling comments about the pernicious influence of the police presence in Sweden and paints an uproariously funny portrait of a very bad cop-venal, xenophobic, work-averse, and a liar-who attempts to force his way into the case with disastrous consequences. (For himself, of course.) Verdict Readers who enjoy Scandinavian crime fiction will love Persson's climactic volume in a series that may be the best around. [Interestingly, the late Swedish journalist and The Girl with the Dragon Tattoo author Stieg Larsson may have cracked the case; according to the Guardian (bit.ly/1fLJ3Sg), a Swedish newspaper recently reported that Larsson left 15 boxes of papers for the police supporting his claim that South African security forces were involved in the crime.-Ed.]-David Keymer, Modesto, CA (c) Copyright 2014. Library Journals LLC, a wholly owned subsidiary of Media Source, Inc. No redistribution permitted.
(c) Copyright 2010. Library Journals LLC, a wholly owned subsidiary of Media Source, Inc. No redistribution permitted.
Book list Swedish crime fiction had a solid fan base in North America even before Stieg Larsson's Millennium trilogy hit the shelves, but since then the onslaught of new authors has become a tidal wave. Persson's trilogy of crime novels featuring Lars Martin Johansson (introduced in the author's first novel, 1978's The Pig Party) was originally published from 2002 through 2007 but didn't start appearing in English translation until 2010. Here, in the concluding volume, Lars Martin is now the head of the National Bureau of Criminal Investigation. He remains obsessed with the still-unsolved 1986 assassination of Prime Minister Olof Palme, and now he has taken the highly unusual and politically unwise step of reopening the investigation. How much of his own life and career (not to mention sanity) is he willing to sacrifice to find, more than two decades later, Palme's killer? A gripping novel and a fitting conclusion to a trilogy that, in many ways, is nearly as powerful as Larsson's blockbusters.--Pitt, David Copyright 2010 Booklist
From Booklist, Copyright © American Library Association. Used with permission.