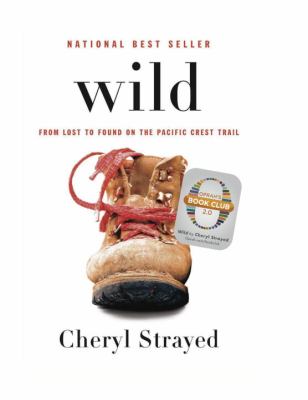 Wild: From Lost to Found on the Pacific Crest Trail
by Cheryl Strayed


Library Journal Strayed delves into memoir after her fiction debut, Torch. She here recounts her experience hiking the Pacific Crest Trail (PCT) in 1995 after her mother's death and her own subsequent divorce. Designated a National Scenic Trail in 1968 but not completed until 1993, the PCT runs from Mexico to Canada, and Strayed hiked sections of it two summers after it was officially declared finished. She takes readers with her on the trail, and the transformation she experiences on its course is significant: she goes from feeling out of her element with a too-big backpack and too-small boots to finding a sense of home in the wilderness and with the allies she meets along the way. Readers will appreciate her vivid descriptions of the natural wonders near the PCT, particularly Mount Hood, Crater Lake, and the Sierras-what John Muir proclaimed the "Range of Light." VERDICT This book is less about the PCT and more about Strayed's own personal journey, which makes the story's scope a bit unclear. However, fans of her novel will likely enjoy this new book. [See Prepub Alert, 10/1/11.]-Karen McCoy, Northern Arizona Univ. Lib., Flagstaff (c) Copyright 2012. Library Journals LLC, a wholly owned subsidiary of Media Source, Inc. No redistribution permitted.
(c) Copyright 2010. Library Journals LLC, a wholly owned subsidiary of Media Source, Inc. No redistribution permitted.
Publishers Weekly In the summer of 1995, at age 26 and feeling at the end of her rope emotionally, Strayed resolved to hike solo the Pacific Crest Trail, a 2,663-mile wilderness route stretching from the Mexican border to the Canadian and traversing nine mountain ranges and three states. In this detailed, in-the-moment re-enactment, she delineates the travails and triumphs of those three grueling months. Living in Minneapolis, on the verge of divorcing her husband, Strayed was still reeling from the sudden death four years before of her mother from cancer; the ensuing years formed an erratic, confused time "like a crackling Fourth of July sparkler." Hiking the trail helped decide what direction her life would take, even though she had never seriously hiked or carried a pack before. Starting from Mojave, Calif., hauling a pack she called the Monster because it was so huge and heavy, she had to perform a dead lift to stand, and then could barely make a mile an hour. Eventually she began to experience "a kind of strange, abstract, retrospective fun," meeting the few other hikers along the way, all male; jettisoning some of the weight from her pack and burning books she had read; and encountering all manner of creature and acts of nature from rock slides to snow. Her account forms a charming, intrepid trial by fire, as she emerges from the ordeal bruised but not beaten, changed, a lone survivor. Agent: Janet Silver, Zachary Shuster Harmsworth Agency. (Mar.) (c) Copyright PWxyz, LLC. All rights reserved.
(c) Copyright PWxyz, LLC. All rights reserved
Book list Echoing the ever-popular search for wilderness salvation by Chris McCandless (Back to the Wild, 2011) and every other modern-day disciple of Thoreau, Strayed tells the story of her emotional devastation after the death of her mother and the weeks she spent hiking the 1,100-mile Pacific Crest Trail. As her family, marriage, and sanity go to pieces, Strayed drifts into spontaneous encounters with other men, to the consternation of her confused husband, and eventually hits rock bottom while shooting up heroin with a new boyfriend. Convinced that nothing else can save her, she latches onto the unlikely idea of a long solo hike. Woefully unprepared (she fails to read about the trail, buy boots that fit, or pack practically), she relies on the kindness and assistance of those she meets along the way, much as McCandless did. Clinging to the books she lugs along Faulkner, Flannery O'Connor, Adrienne Rich Strayed labors along the demanding trail, documenting her bruises, blisters, and greater troubles. Hiker wannabes will likely be inspired. Experienced backpackers will roll their eyes. But this chronicle, perfect for book clubs, is certain to spark lively conversation.--Mondor, Colleen Copyright 2010 Booklist
From Booklist, Copyright © American Library Association. Used with permission.