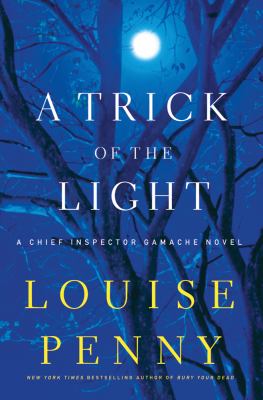 A trick of the light : a Chief Inspector Gamache novel
by Louise Penny


Publishers Weekly In Penny's outstanding seventh Chief Inspector Gamache novel, Gamache and his loyal deputy in Quebec's Surete, Insp. Jean Guy Beauvoir, are still coming to terms with the multiple physical and emotional traumas they suffered in the previous book, Bury Your Dead. These tribulations have already cost Beauvoir his marriage. Meanwhile, the day after the triumphant opening of a show of their friend Clara Morrow's paintings at Montreal's Musee d'Art Contemporain, a dead woman with a broken neck turns up in Clara's garden in the small town of Three Pines. Gamache and his team return to this outwardly idyllic community once again to ascertain whether one of its residents is a murderer. With her usual subtle touch and timely injections of humor, Penny effectively employs the recurring motif of the chiaroscuro, the interplay of light and dark, which distinguishes Morrow's artwork and which resonates symbolically in the souls of the author's characters. 100,000 first printing; author tour. (Sept.) (c) Copyright PWxyz, LLC. All rights reserved.
(c) Copyright PWxyz, LLC. All rights reserved
Book list Whereas Penny's superb Bury Your Dead (2010) was an elaborately constructed crime novel incorporating three freestanding stories, her latest in the Inspector Armand Gamache series is much more focused. The action, of course, is centered in Three Pines, the Brigadoon-like village outside of Montreal, a seemingly idyllic oasis from civilization except for the remarkable number of murders that occur there. This time the body is discovered during a party in celebration of Clara Morrow's breakthrough art show in Montreal. The victim, art critic Lillian Dyson, was a childhood friend of Clara's, but her savage review of Clara's work early in her career put an end to that. Gamache and his team, including the troubled Jean Guy Beauvoir, gather at Three Pines yet again to make sense of the crime. While the investigation burrows deep into the cutthroat art world, the narrative line is fairly straightforward, building to an Agatha Christie-like finale in which all the suspects gather for dinner at Clara's home. Readers who have watched Penny's novels develop from character-driven cozies into deeply textured, multifaceted crime fiction may find this one just a bit disappointing but only in context. Like P. D. James, Penny shows how the tight structure of the classical mystery story can accommodate a wealth of deeply felt emotions and interpersonal drama. . HIGH-DEMAND BACKSTORY: Penny's remarkable string of successes and awards has moved her to the top of the genre. A 100,000 first printing and the attendant publicity will ensure that her latest effort finds the author's adoring audience quickly.--Ott, Bil. Copyright 2010 Booklist
From Booklist, Copyright © American Library Association. Used with permission.
Library Journal This follow-up to the Agatha Award--winning Bury Your Dead finds Armand Gamache, chief inspector of the Montreal police force, and Beauvoir, his lieutenant, still healing physically and psychologically from a fatal police operation gone awry. But this doesn't prevent them from taking on yet another murder case in the secluded village of Three Pines. When resident artist Clara Morrow's solo show at Montreal's premier art museum causes a sensation in the art world, it sets into motion a series of events that expose the vicious jealousies of artists and dealers. Clara's joy rapidly gives way to perplexity when the body of her sociopathic, long-estranged roommate is found in her garden. Gamache's investigation reveals the sad panoply of crippling human aspirations and failures. VERDICT Readers who love literary mystery writers such as Donna Leon will enjoy Penny's latest excellent series entry. [100,000-copy first printing.]-Lynne F. Maxwell, Villanova Univ. Sch. of Law, PA (c) Copyright 2011. Library Journals LLC, a wholly owned subsidiary of Media Source, Inc. No redistribution permitted.
(c) Copyright 2010. Library Journals LLC, a wholly owned subsidiary of Media Source, Inc. No redistribution permitted.