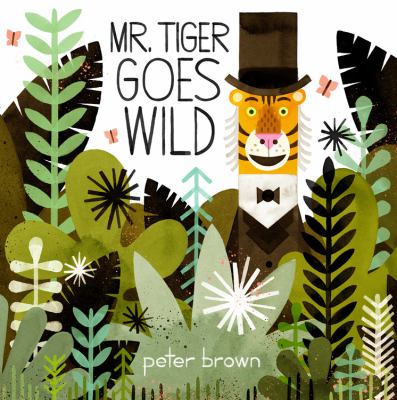 Mr. Tiger goes wild
by by Peter Brown


Publishers Weekly In a gratifying parable about self-actualization, Mr. Tiger lives in a drab society where bipedal animals dressed in fairly Victorian apparel exchange terse salutations, while adhering to rules of etiquette. Though similarly attired in a handsome suit coat and top hat, Mr. Tiger disrupts Brown's (You Will Be My Friend!) manicured spreads, which are colored in the ashy browns of daguerreotypes; he's the color of a mango, has lime green eyes, and faces readers with an expression of barely constrained disgruntlement. Mr. Tiger mechanically runs through the motions (stiffly lifting his hat to greet Mr. Deer), but, "He wanted to loosen up. He wanted to have fun. He wanted to be... wild." Mr. Tiger's expression turns to delight as he scampers on all fours, sheds his clothes, and heads to the wilderness-"where he went completely wild!" His eventual return to civilization reveals that liberation is on the rise. Readers who prefer the view from underneath the dinner table will find a kindred soul in Brown's brightly burning character who knows that the wilderness is always waiting, should the need arise. Ages 3-6. Agent: Paul Rodeen, Rodeen Literary Management. (Sept.) (c) Copyright PWxyz, LLC. All rights reserved.
(c) Copyright PWxyz, LLC. All rights reserved
School Library Journal K-Gr 2-Mr. Tiger lives in a perfectly fine world of prim and proper ladies and gentlemen. One day, the stiff suits, dainty teas, and Victorian manners begin to bore him. and he has a very wild idea. This "it's okay to be different" story stands out from other picture books on the topic thanks to Brown's delightfully clever illustrations and masterful compositions. From the tiger-striped cover that begs to be petted to the ingenious pops of bright orange (Brown's new signature color?) amid muted browns and grays, the award-winning illustrator does not disappoint. Children will appreciate Mr. Tiger's transformation and the way his friends eventually accept his (and their own) uniqueness. Several wordless spreads encourage audience participation while subtle visual clues gently build his character. A full spread featuring the newly liberated Mr. Tiger au naturel is delivered with pitch-perfect comedic timing and is guaranteed to inspire wild giggles. Sure to be an instant read-aloud classic in classrooms and libraries.-Kiera Parrott, Darien Library, CT (c) Copyright 2013. Library Journals LLC, a wholly owned subsidiary of Media Source, Inc. No redistribution permitted.
(c) Copyright 2010. Library Journals LLC, a wholly owned subsidiary of Media Source, Inc. No redistribution permitted.
Book list *Starred Review* Opening endpapers of orderly gray bricks introduce a community of proper Victorian animals getting about their business with smileless politesse. But Mr. Tiger, his bright-orange face a sore thumb among the elephant grays and mule-deer browns, dreams of freedom. First, he drops to all fours. His neighbors are nonplussed. Then, he rampages and roars. His neighbors are frightened. Finally, he gets naked. The village members suggest he head into the wilderness, which he thinks is a magnificent idea. He loves the wilderness, with all its wildness, but, in time, he misses the city and his friends. He returns only to discover that things have loosened to a happy medium. He dons some aloha attire, and all is right with the world. Closing endpapers of haphazard greenery celebrate the welcome change. Brown highlights the differences between municipal propriety and savage abandon with color and composition. The city is all upright, sepia, rectilinear precision; the wild, sweeping vistas of lush, verdant paradise, and their final amalgam form a nice balance. With its skewed humor and untamed spirit, this joyous exploration of quasi-reverse anthropomorphism will delight listeners again and again.--Barthelmess, Thom Copyright 2010 Booklist
From Booklist, Copyright © American Library Association. Used with permission.