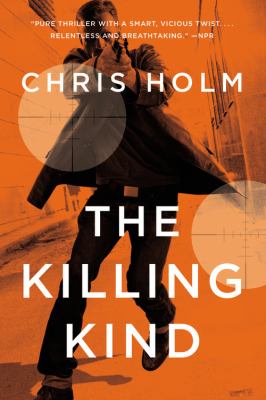 The Killing Kind
by Chris Holm


Library Journal Michael Hendricks is a hit man who kills only other hit men. As a military special op assassin in Afghanistan, he was declared dead, leaving his childhood sweetheart Edie to marry someone else and him to reinvent himself. Hendricks's guilt at what he did as a soldier drives him to kill killers-for ten times the killer's fee. Unfortunately, many of his victims are mob-connected, and the organization hires Edelmann, a nasty piece of work, to eliminate Hendricks. Charlotte Thompson, an FBI agent, also is pursuing Hendricks. Events come to a head at a casino at which all three converge, only to emerge from the carnage to meet again for a fiery climax at Edie's home. Verdict Holm's "Collector" trilogy, which blended urban fantasy with pulp crime fiction, featured an unusual but likable antihero, and so it is the same here with both Hendricks and his crippled war buddy Lester, who helps him with computer wizardry. The ending slips into melodrama, but the wild and furious action, the unusual plot featuring assassin versus assassin, and the memorable characters all keep the reader racing through this skillfully told tale of vengeance. [See Prepub Alert, 3/23/15.]-Roland Person, formerly with Southern Illinois Univ. Lib., Carbondale © Copyright 2015. Library Journals LLC, a wholly owned subsidiary of Media Source, Inc. No redistribution permitted.
(c) Copyright Library Journals LLC, a wholly owned subsidiary of Media Source, Inc. No redistribution permitted.
Publishers Weekly Former U.S. special operations soldier Michael Hendricks, the hero of Holm's inventive thriller, was presumed killed in a horrifying attack in Afghanistan that left his unit destroyed. Informing neither the government nor his ex-girlfriend, Hendricks returns to the U.S., where he contacts the intended victims of organized crime hit contracts and, if they meet his standards for decency, offers to take out their killer, for a fee 10 times what the hit man was paid in the first place. A shadowy cartel of organized crime groups hires sadistic but effective hit man Alexander Engelman to deal with Hendricks. Engelman learns Hendricks's background through devious means, which sets up a final showdown of hit man versus hit man. Holm (Dead Harvest and two other novels in his Collector fantasy series) carries off a preposterous plot with brazen aplomb, creating a diverting, action-packed story interspersed with excellent character vignettes. Agent: David Gernert, Gernert Company. (Sept.) © Copyright PWxyz, LLC. All rights reserved.
(c) Copyright PWxyz, LLC. All rights reserved
Book list When Michael Hendricks, an off-the-books hit man working for the U.S. during one of its many incursions into the Middle East, finds himself listed as presumed dead after an IED explosion, he jumps at the opportunity to move still further off the grid. The only person who realizes Hendricks is alive is Lester Meyers, who lost both legs in the same IED explosion and now, back home, uses his computer-hacking skills to learn about planned Mob assassinations. He passes the info along to Hendricks, who convinces the intended victims to pay him to kill their would-be killers. Of course, the Mob is unhappy about this situation and hires the crème de la crème of hit men to kill the mysterious killer. There are too many clichés and telegraphed plot lines here, but there's plenty to praise, too. Holm's action scenes are breathtaking whirlwinds, and even when readers know what's next, he builds an improbable level of suspense. Yes, this first Holm novel is a bit uneven, but it's clear he's a writer with a strong future. Stick with him.--Lukowsky, Wes Copyright 2015 Booklist
From Booklist, Copyright © American Library Association. Used with permission.