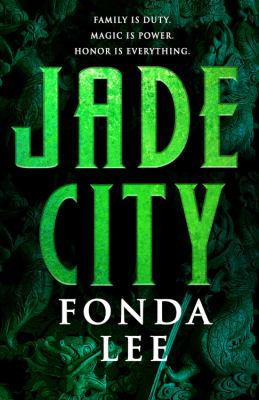 Jade City
by Fonda Lee


School Library Journal Janloon, a city susceptible to typhoons, is better known throughout the modern world as Jade City because of how members of clan fiefdoms depend on the power of jade to give their bodies heightened senses and strength. Lan, the eldest Kaul brother, leads the No Peak clan, assisted by his fear-inducing 27-year-old brother. The Green Bone brothers are wary when their scorned younger sister returns home from a two-year exile, but they need her aid when the clan is attacked by Jade City's rival mafialike family. Shine, an illegal drug that allows all citizens to become empowered by jade, infiltrates the city, and all of the Kaul family members, including the youngest adopted brother still attending the Green Bone training academy, join forces to save their people. Lee, best known for the debut YA science fiction/mixed martial arts novel Zeroboxer, makes her adult debut here. The juxtaposition of modern technology (subways and television) against the ancient social structure of clans in an Asian-inspired city sets this fantasy apart. VERDICT Revenge killings will draw action readers, and the powerful and flawed relationship dynamics between the Kaul siblings will keep teens enthralled. Perfect for epic fantasy fans.-Sarah Hill, Lake Land College, Mattoon, IL © Copyright 2018. Library Journals LLC, a wholly owned subsidiary of Media Source, Inc. No redistribution permitted.
(c) Copyright Library Journals LLC, a wholly owned subsidiary of Media Source, Inc. No redistribution permitted.
Publishers Weekly In this intrigue-packed adventure, first in a trilogy set in an Asia-inspired, alternate-world modern city (and the first book for adults from YA author Lee), warring clans battle for control of their island nation and the jade that empowers them to perform superhuman feats. For decades, the Green Bone warriors of the No Peak and Mountain clans have maintained a delicate peace, hewing to a rigid code of honor as they control Janloon's neighborhoods and industries. But ambition, treachery, and the rise of a new generation of leaders lead to open conflict between the factions. The members of No Peak must wage war on all fronts, including political and economic, but the real battle is in the streets, where their jade-enhanced champions fight to the death. As this ambitious and complex story unfolds, Lee (Exo) skillfully juggles a huge cast. Her action scenes are flashy, brutal, and cinematic, while the family dynamics hold their own weight and significance. This is an engaging blend of crime drama and Asian martial arts film tropes. At times, the modern elements-cars, televisions, guns-feel out of place in such a strongly envisioned world, but this remains an intense, satisfying experience. Agent: Jim McCarthy, Dystel & Goderich Literary. (Nov.) © Copyright PWxyz, LLC. All rights reserved.
(c) Copyright PWxyz, LLC. All rights reserved
Library Journal For centuries, the Green Bone warriors defended the island of Kekon from foreign invasion by using jade to enhance their physical and mental abilities. But now the peace is disintegrating as rival families compete to control Janloon, the capital city. Heading the No Peak clan are the Kauls. Eldest son Lan leads as Pillar, but he struggles with health issues and his grandfather's efforts to seize control; sister Shae gave up her jade when she chose another path, but she has reluctantly been brought back into the family; youngest brother Hilo wields power as the Horn but is burdened by family issues. Yet as the Mountain clan, led by the notorious Ayt family, moves onto No Peak's territory, and the Kauls try to stop their inevitable slide into clan war, the siblings discover much more is wrong beneath the surface tensions. VERDICT Making her adult fiction debut, YA author Lee (Zeroboxer) draws on her Chinese heritage, passion for gangster stories, and strong writing to launch a Godfather-inspired fantasy series that mixes bold martial-arts action and vivid worldbuilding. The result is terrific. [Previewed in Marlene Harris's "Galaxy Quests" sf/fantasy preview, LJ 4/15/17.]-KC © Copyright 2017. Library Journals LLC, a wholly owned subsidiary of Media Source, Inc. No redistribution permitted.
(c) Copyright Library Journals LLC, a wholly owned subsidiary of Media Source, Inc. No redistribution permitted.
Book list Lee's launches an adult series and makes the transition from young adult to more mature audiences without a stumble. It's a mash-up urban fantasy-Mob story with some martial arts thrown in, with well-formed characters and impeccable world building. Protecting the island of Kekon from foreign invaders has been the duty of the Green Bones for centuries. These warriors enhance their abilities by channeling the magical properties of jade, and only some are allowed, or able, to wear the precious stone. But as the threat from without disappears, the threat from within intensifies between the Mafia-like families of the Green Bones. When a new drug emerges on the market, it is the spark that starts a war between these families. For those who enjoy both fantasy and urban fantasy, this book is an easy fit. But even for those who don't normally read the genre, the world and characters will be enough to draw them in and hold their attention.--Kuczwara, Dawn Copyright 2017 Booklist
From Booklist, Copyright © American Library Association. Used with permission.