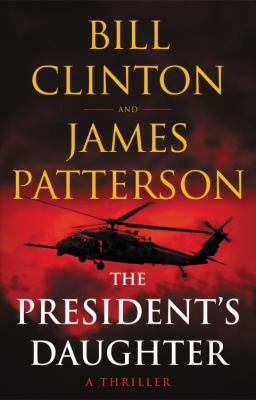 The President's Daughter
by Bill Clinton and James Patterson


Library Journal In Bentley's Tom Clancy Target Acquired, Jack Ryan Jr. is on a seemingly simple stakeout in Israel when he is targeted by trained killers. Ellroy delivers Widespread Panic in his latest, which features a former cop negotiating his way through dark-and-dirty Fifties Los Angeles as a private eye. In The Maze, retired NYPD Homicide Detective John Corey answers the call to help investigate when bodies are found buried on the beach. Broadcast journalist-turned-cybersecurity expert Ali Reynolds must deal with both a serial killer and a former employee of her husband just out of prison in Jance's Unfinished Business (100,000-copy first printing). In Johansen's The Bullet, it's bad news for forensic sculptor Eve Duncan when the former wife of her beloved Joe Quinn returns with dangerous secrets (100,000-copy first printing). In Lippman's tense fantasia, novelist Gerry Andersen is trapped in bed after an accident and fears he is losing his mind when he thinks he's getting phone calls from the main character in his big-deal novel Dream Girl (200,000-copy first printing). From mega-best-selling Patterson and former President Clinton, The President's Daughter features a new family in the White House—and a former White House family targeted by an international assassin (one-million-copy first printing). Joined by Quartermous, Woods hits the Jackpot with another Teddy Fay thriller, as Teddy investigates threats to a film festival in sumptuous Macau.
(c) Copyright Library Journals LLC, a wholly owned subsidiary of Media Source, Inc. No redistribution permitted.
Kirkus A bare-chested hero of a one-time president takes on a slew of very bad jihadis, and the bullets fly. In office, Clinton lobbed a few cruise missiles at Osama bin Laden and company, to little apparent effect. Now, teamed up with literary industrialist Patterson, his vengeance is more comprehensive. Matt Keating helms the Oval Office. A former Navy SEAL, he has a special bone to pick with Asim Al-Asheed, a sadistic one-time doctor who once crucified a captive SEAL, leaving him to hang for an hour "before the captors grew bored and slit his throat." Not nice. Holed up in the Libyan mountains, Asim has an eager enabler in a Chinese operative named Jiang Lijun. SEALs close in, bullets are exchanged, a bomb detonates, and Asim's family members become collateral damage. What's a bad guy to do? Kidnap Keating's teenage daughter, of course, but only after Keating is out of office, "a one-term president known to history as the first to lose my job against an insurgent vice president," Pamela Barnes, who'd never liked him and defeated him in the primaries. As president, Barnes proves less interested in Mel's safety than in politics, so it's up to Keating to work the phones with Mossad, Saudi intelligence, and the Massachusetts State Police and assemble a crew to find Asim and "separate his brain stem from his spine." It helps that Melanie, the daughter, knows her way around tactical weapons of various kinds. She's a tough, resourceful kid, which only serves to tick Asim off even as Jiang woos him with geopolitical calculations and fat bribes. As for Keating, well, he's the kind of dude given to lines like, "Except for Mel, there are no innocents up there. Armed or unarmed, running away or running toward us, kill 'em all." Guess how it all ends? There's scarcely a moment here that can't be seen from afar: The bad guys sneer and stab, the good guys come riding in to save the day, the sitting president fumes at having been left out of the fun, and the authors throw in genre tropes like so many grenades. Written by the numbers, but undemanding entertainment. Copyright © Kirkus Reviews, used with permission.
Copyright © Kirkus Reviews, used with permission.
Publishers Weekly A former American president turns action hero in Clinton and Patterson's disappointing follow-up to their bestselling The President Is Missing. President Matt Keating, who was vice president when his predecessor died from natural causes, orders an operation targeting an Islamic terrorist, Asim Al-Asheed, at his Libyan compound. Al-Asheed survives the attack, but his wife and three daughters are killed. During the next election cycle, Keating's vice president, Pamela Barnes, successfully challenges him and is elected president. After Keating leaves the White House, Al-Asheed abducts Keating's 19-year-old daughter, Melanie, while she's hiking in New Hampshire. Al-Asheed announces three conditions for Melanie's safe return: freeing three of his comrades, a full pardon for crimes he may or may not have committed against Americans, and $100 million in bitcoin. Melanie's mother, Samantha, distrusts President Barnes's promises to do everything possible to rescue the teen, and ultimately Keating, a former Navy SEAL, must take action himself. The authors don't sweat the details (when Melanie's kidnapped, Keating and Samantha, who are in different places, don't try to contact each other), and too many convenient coincidences propel the plot. Die-hard Patterson fans will best appreciate this one. Agents: Robert Barnett and Deneen Howell, Williams & Connolly. (June)
(c) Copyright PWxyz, LLC. All rights reserved
Book list A disgraced former American president, a teenager snatched from safety by a dangerous man, a father who will risk everything he has left to save his daughter—although the latest from the marketing superduo of Patterson and Clinton is not strictly a sequel to The President Is Missing (2018), it does carry over many of that novel's themes and settings. Matthew Keating, who was a Navy SEAL before he was president, was pushed out of office after his first term by his aggressive, conniving VP, who capitalized on a highly publicized raid on a terrorist compound that cost innocent lives. Now Keating discovers he's being targeted by those same terrorists, and they make their first move by abducting his teenage daughter. It's painfully obvious what's going to happen next—Keating will draw on his SEAL skills to get his daughter back—but the authors throw in enough action to keep things moving, and Keating is an interesting enough guy to keep us rooting for him. Not a great thriller, but a notch or two above serviceable.HIGH-DEMAND BACKSTORY: Three words—Patterson and Clinton.
From Booklist, Copyright © American Library Association. Used with permission.