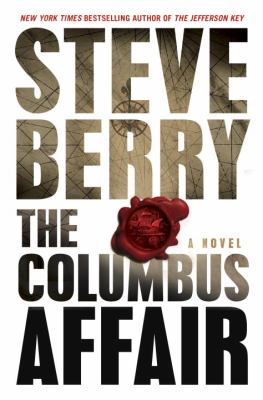 The Columbus Affair
by Steve Berry


Book list At first, readers might wonder why Berry has introduced a new protagonist, disgraced investigative journalist Tom Sagan, for this story that involves a nasty villain and an ancient historical mystery. This seems like prime material for Cotton Malone, Berry's series hero, but we soon see that Malone wouldn't fit here. Sagan, who was stripped of his Pulitzer Prize after an accusation of plagiarism, is approached by a man who has abducted Sagan's daughter. Unless Tom helps him uncover the truth about Christopher Columbus and a lost treasure, Tom's daughter is in mortal danger. The book is full of twists and turns, and it's quite a bit grittier and darker than the Malone novels. We sense real danger here, not the faux danger that puts Malone in seeming jeopardy (although we know nothing bad will actually happen to him), and Zachariah Simon, the man who uses Tom's daughter's life as leverage, is a believable and formidable villain. It's something different for Cotton Malone fans something different and also something very good. HIGH-DEMAND BACKSTORY: Berry's books have been translated into 40 languages and sold in 51 countries; don't be surprised if his latest sweeps still farther around the globe.--Pitt, David Copyright 2010 Booklist
From Booklist, Copyright © American Library Association. Used with permission.
Library Journal In his first stand-alone thriller since 2005, Berry (The Jefferson Key) takes advantage of the enigma that was Christopher Columbus to create a fascinating blend of legends, fables, contested historical facts, and imaginative fiction. Tom Sagan, a disgraced journalist of Jewish descent, is about to commit suicide when he is coerced into a plot to decipher secrets hidden in the coffin of his father. Sagan's estranged daughter, Alle, has fallen into the hands of ruthless Zachariah Simon, a wealthy Orthodox Jew in search of a treasure supposedly hidden by Columbus somewhere in Jamaica. Simon has temporarily allied himself with Bene Rowe, a Jamaican Maroon, descendant of runaway slaves, who has his own reasons for finding the treasure. But does it exist and, if so, what exactly is it? Many will risk their lives to learn the truth. VERDICT Thriller readers-from fans of Dan Brown's ciphers to Clive Cussler's fantastic adventures-will savor this intoxicating amalgam of Taino (indigenous) myth, Maroon legend, the history of Jews in Jamaica, the peregrinations of Temple treasures following Titus's sacking of Jerusalem in 70 C.E., and Columbus's mysterious deeds in the West Indies. Sure to be another best seller. [See Prepub Alert, 11/7/11; library marketing.]-Ron Terpening, Univ. of Arizona, Tucson (c) Copyright 2012. Library Journals LLC, a wholly owned subsidiary of Media Source, Inc. No redistribution permitted.
(c) Copyright 2010. Library Journals LLC, a wholly owned subsidiary of Media Source, Inc. No redistribution permitted.
Publishers Weekly This engrossing stand-alone thriller from bestseller Berry (The Third Secret) assumes the premise that Columbus was a Jew, Christoval Arnoldo de Ysassi, forced to convert to Christianity, and that aboard his ships were sacred artifacts rescued from the Temple Mount in Jerusalem, including a golden menorah, which he hid on his last voyage to the New World. On the trail of those artifacts and a rumored gold mine are Bene Rowe, a wealthy and powerful Jamaican Maroon, and Zachariah Simon, a Jew intent on returning the artifacts to Jerusalem. The grave of Abiram Sagan, father of disgraced reporter Tom Sagan, may hold the key to finding the treasures. Simon succeeds in reawakening the reporter's dormant investigative skills, prompting a quest that wends through Vienna, Prague, and 500 years of history before culminating in the caves of Jamaica. Berry's imaginative mix of Judaic and Columbus lore as well as Tom's transformation from suicidal flop to heroic everyman should please his many fans. Author tour. Agent: Simon Lipskar, Writers House. (May) (c) Copyright PWxyz, LLC. All rights reserved.
(c) Copyright PWxyz, LLC. All rights reserved