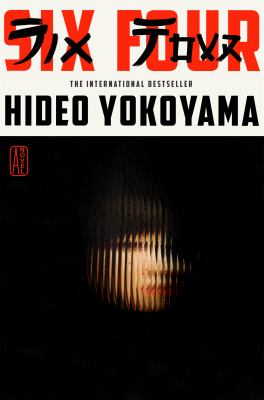 Six Four:
by Hideo Yokoyama


Kirkus A bestselling Japanese crime novelist makes his American debut with a pensive but overlong whodunit that sheds light on power relations in his native country.It's 1989, the final year of Emperor Hirohito's reign, a time of portent, and a young girl has gone missing. A kidnapper calls, the police flail about, and parents and child never reunite. Time goes by, and now, in 2003, Yoshinobu Mikami is still thinking about the case, for, in a plot convenience that demands ample suspension of disbelief, his own daughter has gone missing. As Yokoyama's grim tale opens, Mikami and his wife are in the morgue, hoping against hope that the teenager lying on the table is not their daughter. "This wasn't their first time," writes Yokoyama, "in the last three months they had already viewed two bodies of Ayumi's age." Mikami is able to take a synoptic view because he had been an investigator in the earlier case, and now, reviewing the files, he sees something he had not noticed before. It's not really his place to be poking around, though, since he has been transferred to the press relations office of the police department, a job that he fears is a subtle, politically motivated demotion and a move that has soured any enthusiasm he had for being a cop. The jaded investigator is an old trope in crime fiction, but Yokoyama steals a page from Stieg Larsson by using the mystery to probe the ways the powers that be work in an apparently orderly society that masks a great undercurrent of evil and wrongdoing, much of it committed by the powerful and well-connected. So it is in this story, which takes leisurely twists into the well-kept offices of Japan's elite while providing a kind of informal sociological treatise on crime and punishment in Japanese society, to say nothing of an inside view of the police and their testy relationship with the media. Elaborate but worth the effort. Think Jo Nesb by way of Haruki Murakami, and with a most satisfying payoff. Copyright Kirkus Reviews, used with permission.
Copyright © Kirkus Reviews, used with permission.
Library Journal In 1989, a Tokyo schoolgirl is kidnapped, but the negotiations are botched, leaving the kidnapper at large and the victim dead. Fourteen years later, Det. Yoshinobu Mikami, who had been involved in the initial investigation and who is now working in media relations, is pulled back into the cold case, labeled "Six Four," when the top brass plan a photo op around the crime. In tracing the tragic events, Mikami talks to suspects, and even the victim's family, slowly realizing that police politics, the personal tragedy of his own missing daughter, and the old 64 case are connected. Uncovering the truth and delivering justice is hard fought. Verdict A best seller in Japan, Yokoyama's English-language debut is a complex procedural that takes time to get into high gear as it follows its detective sifting through the evidence while mired in his department's bureaucratic intricacies and office politics. [See Prepub Alert, 8/16/16.]-Ron Samul, New London, CT © Copyright 2017. Library Journals LLC, a wholly owned subsidiary of Media Source, Inc. No redistribution permitted.
(c) Copyright Library Journals LLC, a wholly owned subsidiary of Media Source, Inc. No redistribution permitted.
Library Journal This work, the first available-in-English-translation novel from Japanese phenomenon Yokoyama, requires serious commitments of time and attention. The exquisitely plotted story pivots around detective-turned-press director Mikuma, who was previously involved in investigating the 1989 kidnapping and murder of a seven-year-old girl. Referred to as the titular "Six Four"-1989 is Showa 64/Heisei 1 in the Japanese calendar-the unsolved case's 14th anniversary is about to become a major press event, and Mikuma must convince the girl's mourning father to receive the head of the National Police Agency. Meanwhile, -Mikuma is dealing with his own anguish-his runaway teenage daughter remains missing-and his heightened desperation drives his own unofficial investigation into Six Four until closure (for some) becomes possible. With his crisp British accent, narrator Richard Burnip reads with requisite detachment, never prematurely giving anything away, but his emotive adjustments are immediate whenever parental attachment trumps professional neutrality. VERDICT International thrill-seekers (with patience) will find Yokoyama's English debut essential listening. ["A complex procedural that takes time to get into high gear": Xpress Reviews 1/20/17 review of the Farrar hc.]-Terry Hong, Smithsonian BookDragon, Washington, DC © Copyright 2017. Library Journals LLC, a wholly owned subsidiary of Media Source, Inc. No redistribution permitted.
(c) Copyright Library Journals LLC, a wholly owned subsidiary of Media Source, Inc. No redistribution permitted.
Book list This is Yokoyama's sixth novel, the first to be published in English. Yokoyama, the James Ellroy of Tokyo, is known for an exhaustive and relentless work ethic. He once brought on a heart attack by working nonstop for 72 hours. This intense drive is reflected in his extremely detailed style and carefully wrought characters. Six Four succeeds on several levels: as a police procedural, an incisive character study, and a cold-case mystery. However, this takes almost 600 pages to accomplish. A seven-year-old Tokyo schoolgirl was kidnapped in 1989, the kidnapper never identified, the girl never found. For years the police felt the disgrace of their botched investigation of case Six Four. Eager for promotion, Superintendent Yoshinobu Mikami has taken on a press-director position, although his heart is still in criminal investigation. When he uncovers an anomaly in the crime reports, he digs deeper, and it doesn't take long for him to realize that some doors are locked up tight for good reason. Recommended for libraries with a devoted international mystery following.--Murphy, Jane Copyright 2016 Booklist
From Booklist, Copyright © American Library Association. Used with permission.
Publishers Weekly Japanese author Yokoyama makes his U.S. debut with a massive and complex police procedural set in 2003 in one of Japan's prefectures. Supt. Yoshinobu Mikami, who has been transferred from criminal investigations to media relations at Prefecture D Police Headquarters, must contend with unhappy members of the press who feel that the police are too selective in what they choose to share. The multilayered plot involves the unsolved kidnapping and murder of a seven-year-old girl 14 years before, physical confrontations between reporters and police, and the discordant relationships among various elements of the police force. Meanwhile, Mikami agonizes over his teenage daughter, Ayumi, who has been missing for weeks. American readers may have trouble following the bewildering conflicts and alliances, but they should gain a better understanding of a very different culture. This is a novel that requires and rewards close attention. The ending is oddly satisfying, though none of the underlying issues are truly resolved. (Feb.) © Copyright PWxyz, LLC. All rights reserved.
(c) Copyright PWxyz, LLC. All rights reserved