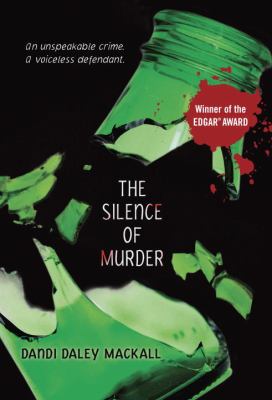 The Silence of Murder
by by Dandi Daley Mackall


School Library Journal Gr 8 Up-After her autistic brother is accused of murdering the town's beloved baseball coach, 16-year-old Hope Long determines to exonerate him. To prove Jeremy's innocence, she must overcome significant obstacles, including his inability to defend himself because of selective muteness, criminal evidence that is damning, and the townspeople's judgmental attitudes toward the 18-year-old's disability. With the assistance of her friend T. J. and the sheriff's son, Chase, she compiles a list of suspects and seeks clues that will clear Jeremy. In the course of their detective work, romance ensues between Hope and Chase, which helps lighten the novel's dark tone. Hope uncovers a shocking revelation about her mother, dramatically impacting Jeremy's case. Paced like a riveting television courtroom drama, with the ultimate conclusive twist, The Silence of Murder is gritty and intense, and it will appeal to readers who appreciate realistic depictions of criminal investigations. Mackall portrays autism with compassion and sensitivity; Hope's unerring devotion to her brother, and her ability to see beyond his disability, beautifully anchors this novel.-Lalitha Nataraj, Escondido Public Library, CA (c) Copyright 2011. Library Journals LLC, a wholly owned subsidiary of Media Source, Inc. No redistribution permitted.
(c) Copyright 2010. Library Journals LLC, a wholly owned subsidiary of Media Source, Inc. No redistribution permitted.
Book list I have never even once thought there was something 'wrong' with my brother. says 17-year-old Hope Long, but few people share her view. Jeremy, 18, is selectively mute, autistic, and on trial for the murder of a beloved local coach. Wherever their irresponsible alcoholic mother has taken them, Hope has always been Jeremy's advocate, but now, in order to save Jeremy from execution, she must testify to his insanity. Convinced of her brother's innocence, Hope sets out to discover the real murderer. Her investigation leads to the loss of her only friend, a forbidden romance with the sheriff's son, family secrets, and a journey of self-discovery. Hope's first-person narrative pulls readers immediately into the story as she works her way through clues and false leads to the truth. The well-plotted mystery is intriguing, and Hope's determined efforts to solve it have an authentic feel. Secondary characters are a tad one-dimensional, but Hope's compelling voice and the very real sense of danger propel the pace to a solution that will have readers talking.--Rutan, Lynn Copyright 2010 Booklist
From Booklist, Copyright © American Library Association. Used with permission.