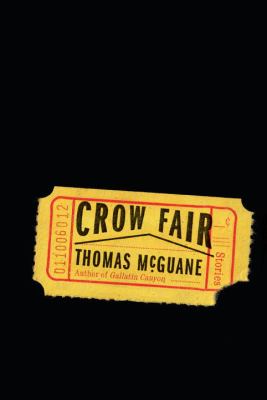 Crow Fair: Stories
by Thomas McGuane


Publishers Weekly Me and Ray thought you ought to see what dementia looks like," a woman named Morsel tells Dave, who has just driven Ray across the prairie to visit Morsel and her peculiar father. It's one of many funny, sad, and awful, awfully human moments from McGuane's (Gallatin Canyon) latest story collection featuring aging cowboys, middle-aged men resistant to growing up, and the women who plague and perplex them. "Motherlode" traces the road trip to Morsel's house from a not-so-chance encounter at a smalltown hotel to a scheme for selling drugs in Montana's northern oil fields. McGuane's Montana retains wistful and ironic echoes of the Old West. The title story recounts how two brothers handle their dying mother's revelation of her long-ago love affair at the Crow Fair powwow/Wild West Show. With imagery as sparse and striking as the landscape, houses figure prominently. "Weight Watchers" shows a man who builds homes only for other people. The repossessed "House on Sand Creek" becomes home to a real estate lawyer, his Eastern European wife, her infant son, and Bob the babysitter. At the "Fishing Camp," two longtime friends find their wilderness guide cannot stand being in the wilderness with men who keep arguing about the past. Among female characters, "Prairie Girl" shines as she makes her way from prostitute to bank president. A boy steals hubcaps; a shaman begs charity; a girl hikes toward the howling of wolves: McGuane's stories highlight the detachment of young from old, husband from wife, neighbor from neighbor, the dying from life itself. (Mar.) © Copyright PWxyz, LLC. All rights reserved.
(c) Copyright PWxyz, LLC. All rights reserved
Book list *Starred Review* If one McGuane story could be called typical, it might be On a Dirt Road, told by a man curious about his new neighbors, the Jewels, a man and wife who studiously avoid contact. Dodging a dinner date with his wife's friends, the man forces himself on the Jewels and finds them charming, naive, and unquestionably odd. He gathers them up to crash his wife's dinner date, only to discover she's used the dinner date to cover for an assignation. Backdoor irony, you might call it, mixed with black humor. In The Good Samaritan the best hired hand who ever lived turns out to be a con artist. In Stars, a young woman tries out every conventional role, until gradually she sheds them all and goes wild. But another young woman shows great business acumen and rises from prostitution to bank president. McGuane can be very funny, as in Grandma and Me, in which the ne'er-do-well grandson shepherds his blind 90-year-old grandmother around a little Montana town, enduring her sometimes just, sometimes inaccurate belittlings for a modest stipend. Grandma is crazy, and so is her grandson, which becomes clear when a dead body passes by in the river, and he abandons Grandma to chase it. It's as if solving the mystery of the corpse would at last explain the universe. McGuane's stories are about the whacked-out order men and womenassign to things, but it's not the true order and merely contributes to a larger confusion that is not far from horror. Seventeen glum, gleeful, brilliant stories from the author of Gallatin Canyon (2006) and Driving on the Rim (2010).--Mort, John Copyright 2014 Booklist
From Booklist, Copyright © American Library Association. Used with permission.
Library Journal Starred Review. Family ties form the focus of these turbulent stories, set mostly in Montana. The title story concerns the strained relationship of two brothers that's exacerbated by the discovery of their saintly mother's infidelity. "A Long View to the West" explores the highly ambivalent feelings of a son, a small-town car dealer, toward his father as he listens once again to his too-familiar stories when visiting him in the hospital. "River Camp" concerns another strained relationship, this one between lifelong friends who have booked a backwoods expedition in hopes of repairing their friendship only to find themselves in the hands of a mentally unstable guide. In "The Casserole," a seemingly comfortable marriage unexpectedly breaks up on the couple's 25th anniversary as they drive to her parents' house for what is supposed to be a celebratory get-together. VERDICT Very little about the world is ever as solid as it might seem for McGuane's solitary and troubled characters, as the foundations of their lives can give way at a moment's notice, leaving them suddenly bereft-or with only a casserole somehow stuffed into in a lunch pail to carry them through the long ride home. A compelling, emotionally charged collection. [See Prepub Alert, 9/15/14.]-Lawrence Rungren, Andover, MA (c) Copyright 2014. Library Journals LLC, a wholly owned subsidiary of Media Source, Inc. No redistribution permitted.
(c) Copyright Library Journals LLC, a wholly owned subsidiary of Media Source, Inc. No redistribution permitted.