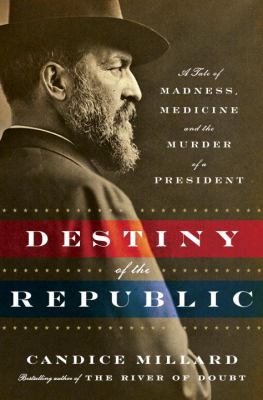 Destiny of the Republic: A Tale of Madness, Medicine and the Murder of a President
by by Candice Millard


Library Journal Millard (The River of Doubt: Theodore Roosevelt's Darkest Journey) presents a dual biography of the 20th U.S. President and his assassin. James A. Garfield and Charles Guiteau were both born into hardscrabble Midwestern circumstances. While Garfield made himself into a teacher, Union army general, congressman, and President, Guiteau, who was most likely insane, remained at the margins of life, convinced he was intended for greatness. When he failed to receive a position in Garfield's administration, he became convinced that God meant him to kill the President. At a railway station in the capital, Guiteau shot Garfield barely four months into his term. Garfield lingered through the summer of 1881, with the country hanging on the news of his condition. In September he died of infection, apparently due to inadequate medical care. Millard gives readers a sense of the political and social life of those times and provides more detail on Guiteau's life than is given in Ira Rutkow's James A. Garfield. The format is similar to that in The President and the Assassin, Scott Miller's book on President McKinley and Leon Czolgosz. VERDICT Recommended for presidential history buffs and students of Gilded Age America. [See Prepub Alert, 3/7/11.]--Stephen L. Hupp, West Virginia Univ. Lib., Parkersburg (c) Copyright 2011. Library Journals LLC, a wholly owned subsidiary of Media Source, Inc. No redistribution permitted.
(c) Copyright 2010. Library Journals LLC, a wholly owned subsidiary of Media Source, Inc. No redistribution permitted.
Choice Significant scholarly attention has long eluded the story of James A. Garfield; however, with this book, former National Geographic writer Millard sheds light on one of history's forgotten presidents. Garfield was assassinated just four months into his presidency; accordingly, his list of accomplishments as president are slim, though his life story before his time in the Oval Office is most compelling and is well documented in this work. The author traces Garfield's hardscrabble upbringing through his evolution into a first-rate scholar and intellectual by his early twenties and remarkable military career during the Civil War. While each segment of Garfield's life is more than adequately handled, the real strengths of this outstanding book are connected to the intrigue that surrounded Garfield's assassination. In this regard, Millard's work really shines as she combs through the long agonizing path toward the grave. The medical treatment James A. Garfield received was as much the element behind his death as the assassin's bullet itself. Readers will appreciate Millard's talent for constructing fluid, eloquent prose throughout a book that does not waste one single word. Summing Up: Highly recommended. All levels/libraries. T. Maxwell-Long California State University, San Bernardino
Copyright American Library Association, used with permission.
Publishers Weekly This rendering of an oft-told tale brings to life a moment in the nation's history when access to the president was easy, politics bitter, and medical knowledge slight. James A. Garfield, little recalled today, gained the Republican nomination for president in 1880 as a dark-horse candidate and won. Then, breaking free of the sulfurous factional politics of his party, he governed honorably, if briefly, until shot by an aggrieved office seeker. Under Millard's (The River of Doubt) pen, Garfield's deranged assassin, his incompetent doctors (who, for example, ignored antisepsis, leading to a blood infection), and the bitter politics of the Republican Party come sparklingly alive through deft characterizations. Even Alexander Graham Bell, who hoped that one of his inventions might save the president's life, plays a role. Millard also lays the groundwork for a case that, had Garfield lived, he would have proved an effective and respected chief executive. Today, he would surely have survived, probably little harmed by the bullet that lodged in him, but unimpeded infection took his life. His death didn't greatly harm the nation, and Millard's story doesn't add much to previous understanding, but it's hard to imagine its being better told. Illus. (Sept.) (c) Copyright PWxyz, LLC. All rights reserved.
(c) Copyright PWxyz, LLC. All rights reserved
Book list *Starred Review* What a shame for himself and for the country that the kind, intelligent, and charming president James Garfield did not see his administration through to completion. (He had been in office only four months when, in July 1881, he was shot by a deranged office seeker; in September, he died.) That is the sentiment the reader cannot help but derive from this splendidly insightful, three-way biography of the president; Charles Guiteau, who was Garfield's assassin; and inventor Alexander Graham Bell, whose part in the story was an unsuccessful deathbed attempt to locate the bullet lodged somewhere in the president's body. Garfield, who largely educated himself and rose to be a Civil War general and an Ohio representative in the House, was the dark-horse candidate emergent from the 1880 Republican National Convention. Guiteau, on the other hand, led a troubled life and came to believe it was his divine mission to eliminate Garfield in revenge for the new president's steps against proponents of the spoils system. Bell could have been the hero of the whole sad story, but his technology failed to save the stricken president's life. Millard's book, which follows her deeply compelling The River of Doubt: Theodore Roosevelt's Darkest Journey (2005), stands securely at the crossroads of popular and professional history an intersection as productive of learning for the reader as it undoubtedly was for the author.--Hooper, Brad Copyright 2010 Booklist
From Booklist, Copyright © American Library Association. Used with permission.