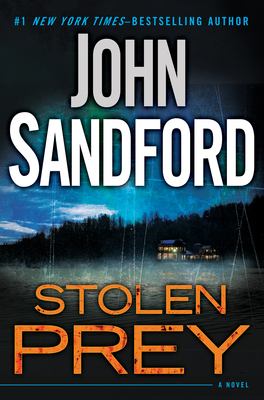 Stolen Prey
by John Sandford


Publishers Weekly A horrific crime-the torture murders of Patrick Brooks, his wife, son, daughter, and three dogs at their palatial lakeside home in Wayzata, Minn.-propels bestseller Sandford's solid 22nd novel featuring Lucas Davenport of the Minnesota Bureau of Criminal Apprehension (after 2011's Buried Prey). That DEA officials believe the killings to be the work of Los Criminales del Norte brings Mexican detective David Rivera and assistant Ana Martinez to the Twin Cities area, though Brooks's Spanish-language company, Sunnie Software, which peddled its product in Mexico, appears to have been an unlikely money laundry. Since the author makes it clear who the bad guys are early on, the slow revelation of what they've done and how they've done it gives the story its kick. Meanwhile, Lucas, after a couple of meth addicts rob him at an ATM, turns for help to series regular Virgil Flowers, who gets surprising results. Once again, Sandford smoothly blends action and suspense with a soupcon of humor. Author tour. Agent: Esther Newberg, ICM. (May) (c) Copyright PWxyz, LLC. All rights reserved.
(c) Copyright PWxyz, LLC. All rights reserved
Book list Wayzata, Minnesota, is not the place where one would expect an entire family husband, wife, kids, even the dogs to be tortured and murdered. To Lucas Davenport, of the Bureau of Criminal Apprehension, it looks a lot like the carnage wrought by vengeful Mexican drug gangs. But this family obviously was not in the drug trade. So why? The trail takes Davenport to a Minneapolis bank, where credit cards were being used to launder Mexican cartel money. But the credit-card account is empty. Someone has ripped off the cartel, and the drug lords intend to butcher people until someone tells them where the money is. The twenty-fourth Prey novel is the usual Sandford mix of tight plotting, gallows humor, and explosive action. This one has a twist, though, which reveals a creeping weakness in Davenport's analytic skills. A white-knuckle page-turner. HIGH-DEMAND BACKSTORY: Last May, Stephen King said, If you haven't read Sandford, you have been missing one of the great summer-read novelists of all time. A nice jump start for a new publicity campaign.--Lukowsky, Wes Copyright 2010 Booklist
From Booklist, Copyright © American Library Association. Used with permission.