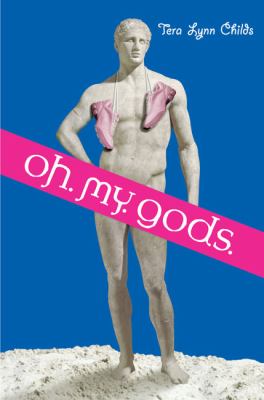 Oh. My. Gods.
by Tera Lynn Childs.


Book list After her widowed mom marries again, high-school-senior Phoebe, a champion marathon runner, is furious that she has to move from California to a small Greek island where her stepdad is the school principal. The place completely bewilders her. Not only must she cope with her evil stepsister but she also discovers that the school is for the descendants of Greek gods, who have supernatural powers. When someone magically knots her Nikes, making her fall, she has plenty of suspects, including a gorgeous fellow runner and a vicious cheerleader. The blend of myth with contemporary jargon, IMs, and brand names makes for great comedy, especially given the wry first-person narrative, which recognizes the universals of geeks, nerds, cheerleaders, and jocks. Whether it's in the Hades harem or among the Zeus set, cliques and bullies are everywhere but so are friends, and family, and romance.--Rochman, Hazel Copyright 2008 Booklist
From Booklist, Copyright © American Library Association. Used with permission.
School Library Journal Gr 7 Up-Phoebe Castro is a distance runner who plans on winning a full-ride cross-country scholarship to USC with her two best friends. Then her mother returns from a family reunion abroad with a Greek fiance who runs a private school and announces that she and Phoebe will be moving to an island in the Aegean. The news gets worse as the teen arrives to find out that there is no scheduled ferry service from the island. To top off everything, she learns that every other student is descended from one or more Greek gods. Her new stepfather tells her that she cannot share this fact with anyone, for the safety of everyone on Serfopoula. Things seem to be looking up when she meets an absolutely gorgeous guy while running on the beach and, despite her lack of divine ancestry, she is granted a provisional place on the cross-country team. The IMs fly back and forth between Greece and southern California, magical hijinks abound, and classes and practice keep the protagonist busy. The story is part "Harry Potter," part Rick Riordan's The Lightning Thief (Hyperion/Miramax, 2005), and part shojo, and it will keep teens, particularly girls, reading to find out if Phoebe will finally fit in, get her crush, and make the team.-Eric Norton, McMillan Memorial Library, Wisconsin Rapids, WI Copyright 2008 Reed Business Information.
Copyright © Reed Business Information, a division of Reed Elsevier Inc. All rights reserved.
Publishers Weekly Phoebe Castro's plans for her senior year undergo a radical makeover when her widowed mother returns early from a Greek vacation, engaged to a man she's just met and determined to whisk Phoebe off to the tiny Aegean island of Serfopoula, where her future stepfather runs the academy that Phoebe will attend. The twist: it's Plato's Academy, now filled with the descendants of the Greek gods and goddesses. Debut author Childs's creativity in manipulating mythology gives an otherwise familiar plot a fun, fresh update. The academy's cliques, for example, include the Zeus/Hera set (into "power, privilege, and partying"), the Poseidon crowd (surfers) and nerds, who descend from Hephaestus ("I think he's embarrassed by them," one student confides). Add the romantic island setting, snappy dialogue, boys as handsome as Adonis, a few conniving (but ultimately harmless) villains and a protagonist who is a hard-core athlete as much as a girl who squeals about the possibility of a date, and together they make an effervescent, fast-paced read. Ages 12-up. (May) Copyright 2008 Reed Business Information.
Copyright © Reed Business Information, a division of Reed Elsevier Inc. All rights reserved.