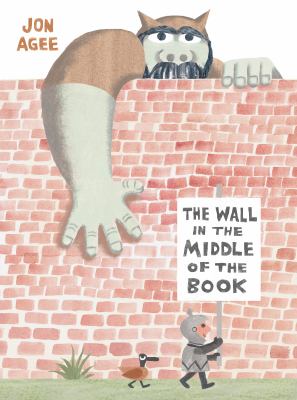 The Wall in the Middle of the Book
by Jon Agee


Book list *Starred Review* A tall brick wall runs through the gutter of this book. On the left, a narrating knight mounts a ladder to replace a brick. He's convinced the wall is a good thing because it protects his safe side from dangers on the other. Wild animals and a large man (the knight insists he is an ogre) live on the right side of the wall. If the ogre ever caught me, he'd eat me up, states the knight with certitude. What goes unmentioned is the water rising underneath the knight and a lot of predator-prey carnage beneath him. Eventually the knight falls into the water and is rescued by the ogre (who is actually a nice guy), and everyone ends up happily on a final spread that pays homage to Maurice Sendak's wild rumpus. Agee's signature cartoon artwork employs simple shapes, white backgrounds, and muted colors, appropriate to the deadpan delivery of the story. The ogre and animals may look fearsome, but everyone is well-behaved and pleasant. By contrast, bigger creatures keep eating smaller ones (much like in Jon Klassen's Hat trilogy) in the knight's kingdom on the left side of the book. Will the intended audience recognize the xenophobia depicted here? Probably not. But the message that walls don't help us understand our neighbors will stick.--Kay Weisman Copyright 2018 Booklist
From Booklist, Copyright © American Library Association. Used with permission.
School Library Journal PreS-Gr 3-There's a wall in the middle of this book. And it's a good thing, because it protects one side of the book from the other side. Or, at least that's what the hero of the book, a young knight, thinks. As the knight warns readers about all of the dangers on the other side of the wall-like tigers and mean ogres-he remains oblivious to the rising water and crocodile who are sneaking up behind him on his side of the wall. Before the water engulfs him completely, the knight is rescued by a surprising savior, and he soon learns that things may not be so bad on the other side of the wall after all. The knight's journey reminds readers that instead of building walls, we should be tearing them down in order to understand who or what is on the other side. Agee's simple illustrations combined with his trademark humor and ability to let readers in on a secret that the protagonist knows nothing about, combine to solidify him as a hilarious picture book master. VERDICT A silly read-aloud with an important message. A solid choice for storytime and one-on-one sharing.-Elizabeth Blake, Brooklyn Public Library © Copyright 2018. Library Journals LLC, a wholly owned subsidiary of Media Source, Inc. No redistribution permitted.
(c) Copyright Library Journals LLC, a wholly owned subsidiary of Media Source, Inc. No redistribution permitted.
Publishers Weekly In this sly fable by Agee (Life on Mars), a tall brick wall runs along the book's gutter, and the action takes place on either side. On the verso, a short, perky knight approaches the wall with a ladder. On the recto, a menacing-looking tiger and rhino lurk. "The wall protects this side of the book" the knight explains, "from the other side of the book." The contrast between the knight's cheery, confiding tone and the outsize dangers supply hilarity, and blocky images in faded hues soften potentially scary moments. As the animals flee, the knight's side of the wall starts to fill up with water. "The most dangerous thing on the other side of the book is the ogre," the knight says from his ladder, oblivious to the deepening flood, finger raised in emphasis. Enter the ogre-uh oh. As ever, Agee nails pacing and punch lines, making inventive use of the famous fourth wall as a literary device (and giving the book a new wall altogether). Most satisfying is his gentle reminder that preconceived notions about things and people, over a boundary or otherwise, are often distinctly wrong. Ages 4-8. Agent: Holly McGhee, Pippin Properties. (Oct.) © Copyright PWxyz, LLC. All rights reserved.
(c) Copyright PWxyz, LLC. All rights reserved