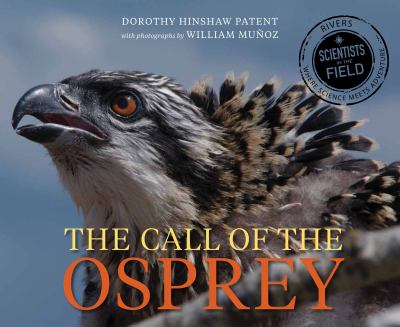 Call of the Osprey
by Dorothy Hinshaw Patent


School Library Journal Gr 5-8-Patent's lucid prose and Muñoz's clear color photos work together to document the efforts of the Montana Osprey Project, which studies the negative effects of toxic metals released into the environment during mining operations on these raptors. The book follows three scientists-Erick Greene, Heiko Langner, and Rob Domenech-as they study established pairs during the nesting season. They band osprey chicks, take blood samples and feather clippings for chemical analysis, fit birds with electronic transmitters to follow their wanderings, scoop silt from riverbeds to check for pollutants, and focus two webcams on osprey nests to check on parenting skills and chick development. The trio also talk with wildlife biology students and cooperate with locals who are fascinated by ospreys. Sidebars abound on a wide variety of topics, many pertaining to the ospreys: their biology, food, nesting behaviors, and migration patterns. Others include biographical background on the three scientists, an article on a young student and her experiments on fish in metal-contaminated waters, and information about the use of mercury in mining operations and the dangers that baling twine poses to nest building ospreys. An extensive author's note describes Patent's experience with some very far-flung pollution. VERDICT An exciting addition to a stellar series.-Patricia Manning, formerly at Eastchester Public Library, NY © Copyright 2015. Library Journals LLC, a wholly owned subsidiary of Media Source, Inc. No redistribution permitted.
(c) Copyright Library Journals LLC, a wholly owned subsidiary of Media Source, Inc. No redistribution permitted.
Book list From the Scientists in the Field series, this handsome volume introduces the Montana Osprey Project, beginning with an empty nest. Awaiting the annual return of the ospreys, it sits on a platform atop a tall pole. Nearby, Patent and Muñoz watch as a roofing truck lifts two scientists up to adjust a webcam aimed at the nest. Well researched and clearly written, the text offers plenty of information about ospreys in the area and the work of the scientists who study them. They band the chicks, take blood and feather samples, and track pollutants in the local environment, where heavy metals can sometimes be traced to runoff from old mines. Sidebars tackle topics such as Superfund sites, DDT, and the hazards of plastic baling twine in osprey nests. One engaging, diarylike feature pairs written observations with photos of the adult birds, their eggs, and the chicks as they grow and prepare to fly. Illustrated with many fine color photos, this is a solid addition to science collections.--Phelan, Carolyn Copyright 2015 Booklist
From Booklist, Copyright © American Library Association. Used with permission.