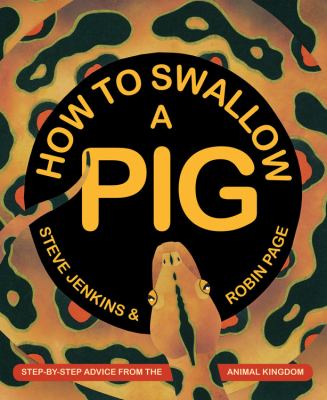 How to Swallow a Pig: Step-by-Step Advice from the Animal Kingdom
by Steve Jenkins


School Library Journal Gr 2-5-Jenkins and Page team up once again for a glimpse into the animal kingdom. The authors outline 18 behaviors step by step, addressing readers directly as they explain how whales fish, wasps build nests, and grebes dance. Though the text is quite witty ("If you are a guy, start things off by offering a female grebe a gift of water plants"), some adults might wish for precautionary notes for the literal-minded, who might attempt to reenact instructions such as "Pop the millipede in your mouth." Impressive torn-and-cut paper collage artwork on white backgrounds work well with the conversational writing style. Students will be enthralled by the descriptions of an octopus disguising itself, a crocodile hunting for a meal, and a python swallowing a pig. The book includes single-page treatments and spreads of each behavior, with numbered directions laid out clockwise. Back matter provides additional information about the animals, such as their sizes and native environments. VERDICT Jenkins and Page present another fascinating, fun, and attractive look at the natural world.-Lynn Vanca, Freelance Librarian, Akron, OH © Copyright 2015. Library Journals LLC, a wholly owned subsidiary of Media Source, Inc. No redistribution permitted.
(c) Copyright Library Journals LLC, a wholly owned subsidiary of Media Source, Inc. No redistribution permitted.
Publishers Weekly Jenkins and Page are back with a tongue-in-cheek "how to" guide to hunting, building, and protecting oneself like more than a dozen animals. Numbered instructions, accompanied by Jenkins's always excellent paper collages, demonstrate how to repel insects like a capuchin monkey, catch a meal like a crocodile ("When an egret lands nearby to pick up one of your sticks, you know what to do"), or defend oneself like an armadillo. Beneath the irreverent tone, there's ample information about the animals' traits and behavior (and even more in an appendix), adding up to a highly enjoyable mix of science and humor. Ages 6-9. (Sept.) © Copyright PWxyz, LLC. All rights reserved.
(c) Copyright PWxyz, LLC. All rights reserved
Book list *Starred Review* Even if you have never wondered how to swallow a pig, one of the best ways to understand how a python accomplishes this feat is to imagine yourself doing so, following the step-by-step directions here. Similarly, readers will learn how tailorbirds sew their nests together, how beavers construct their dams, and 17 other skills that are equally intriguing or amazing. Highlights include How to Repel Insects like a Capuchin (catch a millipede, roll it around on your tongue, and rub it on your fur) and How to Crack a Nut like a Crow (fly above a busy intersection, drop the nut, wait for a car to run over it, and let the traffic light stop vehicles before retrieving the nut). Each single- or double-page presentation includes attractively laid-out instructions and a picture illustrating almost every numbered step. There's enough detail in the simply written, amusing text to make the processes interesting and informative, but an additional paragraph on each animal appears in an appended section along with an illustration miniaturized to postage-stamp size. Colorful, precise, and often striking against the white pages, the cut-paper collage illustrations fulfill their purpose beautifully. Fascinating facts presented with droll wit a winning combination.--Phelan, Carolyn Copyright 2015 Booklist
From Booklist, Copyright © American Library Association. Used with permission.