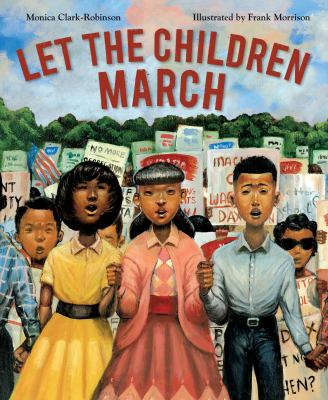 Let the Children March.
by Monica Clark-Robinson


School Library Journal K-Gr 3-The youth of the Birmingham civil rights movement take center stage in this historical picture book. Clark-Robinson narrates from the voice of an unnamed girl, using simple language to tell the story of the momentous events surrounding the arrest and jailing of hundreds of children protesting racial segregation. The narrator states bluntly, "There were so many things I couldn't do." Much of the text will provoke questions and important conversations between children and adult readers. The experiences of segregation are sensitively depicted by Morrison. A playground behind a tall sharp fence sets the stage, while portrait-quality oil paintings of the children and civil rights leaders such as Martin Luther King Jr. fill the rest of the pages. The defiance, determination, and passion comes through clearly on the faces of the figures. An afterword and author's and illustrator's notes provide additional information, as does a cleverly illustrated time line on the endpapers. VERDICT A highly readable historical account which deserves a place on picture book and nonfiction shelves alike.-Clara Hendricks, Cambridge Public Library, MA © Copyright 2017. Library Journals LLC, a wholly owned subsidiary of Media Source, Inc. No redistribution permitted.
(c) Copyright Library Journals LLC, a wholly owned subsidiary of Media Source, Inc. No redistribution permitted.
Book list Nearly 55 years ago, an antisegregation march that came to be known as the Children's Crusade was instrumental in pushing President Kennedy and Congress to adopt the Voting Rights Act. That historic event is chronicled here in a semifictional narrative from the perspective of one of the young participants in Birmingham in 1963. Bolstered by Dr. King's assurances, the children endure snarling dogs, water hoses, and jail, emerging exhausted but undefeated. Morrison's lush oil paintings illustrate Clark-Robinson's terse descriptions, bringing to life the determination of the marchers, the brutality of the police, and the stifling heat of the packed jail cells without sugarcoating the reality. This remarkable story remains relevant today as young readers think about their roles in the ongoing struggle for justice. Teachers who use this book might scaffold it with additional resources that teach about the intensive planning and organization that went into this and other activist campaigns.--Chaudhri, Amina Copyright 2017 Booklist
From Booklist, Copyright © American Library Association. Used with permission.
Publishers Weekly Clark-Robinson's stirring debut unfolds through the resolute voice of a (fictional) African-American girl participating in the 1963 Children's Crusade, during which young residents of Birmingham, Ala., marched to protest segregation. "Dr. King told us the time had come to march," the girl explains. Her parents can't risk losing their jobs, so she, her brother, and thousands of their peers volunteer to serve as "Dr. King's army" ("This burden, this time, did not have to be theirs to bear"). Morrison's dynamic oil paintings viscerally expose the protesters' courage and fear, as well as the anger of white onlookers and police who sic dogs on the marchers and blast them with hoses before locking many in jail. The children's refrains ("Singing the songs of freedom, one thousand strong we came") are displayed like banners across the pages, emphasizing collective strength in the face of brutal violence. The narrator's conclusion, "Our march made the difference," serves as a powerful reminder for today's readers about their own ability to fight for justice and equality. Ages 6-9. Author's agent: Natalie Lakosil, Bradford Literary. Illustrator's agent: Lori Nowicki, Painted Words. (Jan.) © Copyright PWxyz, LLC. All rights reserved.
(c) Copyright PWxyz, LLC. All rights reserved