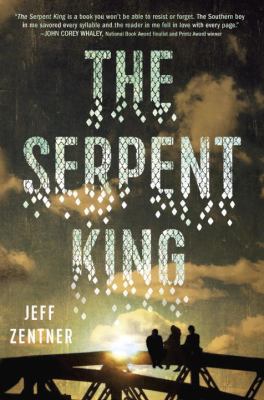 The Serpent King
by Zentner, Jeff


Publishers Weekly Forrestville, Tenn., named after Ku Klux Klan founder Nathan Bedford Forrest, isn't exactly a welcome place for slightly ouside-the-mainstream folks like friends Dillard, Lydia, and Travis. Dill is a high school senior whose snake-handling preacher father is currently incarcerated; Lydia, a successful fashion blogger, plans on attending NYU after graduation; and Travis, large of body and gentle of soul, loses himself (and the pain of his father's physical and emotional abuse) in a fantasy series called Bloodfall. While Dill finds comfort and beauty in music, Travis's innate kindness belies his circumstances, and Lydia's incandescent, gleefully offbeat personality draws them together. As the novel, Zentner's debut, builds to a shocking act of violence that shatters the friends' world, this sepia-toned portrait of small-town life serves as a moving testament to love, loyalty, faith, and reaching through the darkness to find light and hope. Zentner explores difficult themes head on-including the desire to escape the sins of the father and the fragility of happiness-while tempering them with the saving grace of enduring friendship. Ages 14-up. Agent: Charlie Olsen, Inkwell Management. (Mar.) © Copyright PWxyz, LLC. All rights reserved.
(c) Copyright PWxyz, LLC. All rights reserved
Book list In small-town Forrestville, Tennessee, broody musician Dill Early begins his senior year with a general feeling of dread because it means his best friend, Lydia, will be leaving for college once they graduate. As the son of a snake-handling Pentecostal preacher currently in prison, Dill is unable to escape his father's shadow. Lydia, on the other hand, is an outspoken blogger and fashionista, who can't wait to get out of Dodge. Completing their trio is Travis, a gentle giant who carries a staff and is obsessed with fantasy novels. In chapters that shift among the teens' perspectives, Zentner effectively shows the aspirations, fears, and dark secrets they harbor during their final year together. A musician himself, Zentner transitions to prose easily in his debut, pulling in complex issues that range from struggles with faith to abuse to grief. Refreshingly, this novel isn't driven by romance though it rears its head but by the importance of pursuing individual passions and forging one's own path. A promising new voice in YA.--Smith, Julia Copyright 2015 Booklist
From Booklist, Copyright © American Library Association. Used with permission.
School Library Journal Gr 9 Up-The son of a snake-handling preacher imprisoned for possessing child pornography, Dill escapes his controlling mother and social ostracism with the help of his two friends, Lydia and Travis. As the trio round out their senior year, it becomes overwhelmingly apparent the different paths their lives are going to take-Travis is content working in a lumberyard and diving into a fantasy world from a book series in his spare time, while Lydia runs a popular fashion blog and is intent on attending New York University. As for Dill, he yearns for more than Forrestville, TN, can offer, but he feels compelled to honor his father's legacy and his mother's domineering wishes. As Dill grapples with a crush on Lydia and a mother who wants him to drop out of high school, a YouTube clip of Dill singing and playing guitar begins to garner attention. Dill must decide among what his heart wants, what his family needs, and his own desire for a life outside of their small town; "If you're going to live," he says, "you might as well do painful, brave, and beautiful things." Zentner offers a contemporary young adult novel that explores many issues common with teenagers today-bullying, life after high school, and the coming together and breaking apart of high school friendships. Thorough characterization and artful prose allow readers to intimately experience the highs and lows of these three friends. VERDICT Recommended for fans of John Green and Rainbow Rowell.-Amanda C. Buschmann, Atascocita Middle School, Humble, TX © Copyright 2016. Library Journals LLC, a wholly owned subsidiary of Media Source, Inc. No redistribution permitted.
(c) Copyright Library Journals LLC, a wholly owned subsidiary of Media Source, Inc. No redistribution permitted.