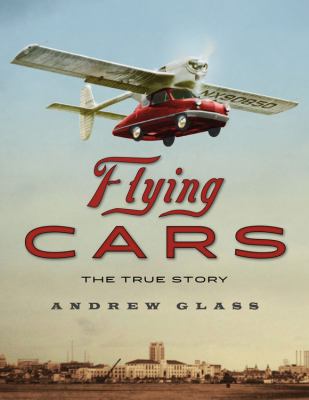 Flying Cars: The True Story
by by Andrew Glass


School Library Journal Gr 5-8-Despite the promises of movies such as Back to the Future II, most of us do not ride in flying cars as of 2015. Glass explains why not in this intriguing work of history. Readers learn about many intriguing airplane-car hybrids, such as the Airphibian, invented by Robert Fulton, who flew his vehicle at 110 miles per hour, landed it, single-handedly converted it into a car in under five minutes, then "drove the convertible proudly into Manhattan at a breezy 55 miles per hour." These stories of invention are undeniably appealing, although Glass's storytelling sometimes obscures the history, and extraneous details occasionally distract from the book's focus. The author does not explicitly define the difference between a flying car and a plane with wheels. This distinction only becomes clear after a few chapters, and readers may be put off by lengthy technical descriptions. While a brief glossary follows the text, terms like carburetor, piston, gondola, and horsepower are not defined. VERDICT This flawed but fascinating book is best suited to larger collections and communities with strong interest in cars or aviation.-Rachel Anne Mencke, St. Matthew's Parish School, Pacific Palisades, CA © Copyright 2014. Library Journals LLC, a wholly owned subsidiary of Media Source, Inc. No redistribution permitted.
(c) Copyright Library Journals LLC, a wholly owned subsidiary of Media Source, Inc. No redistribution permitted.
Book list The concept of the flying car is the automotive industry's white whale. For years dreamers, tinkerers, engineers, and entrepreneurs have envisioned not just an airplane but a vehicle that could easily toggle between road and air travel at the flip of a switch. As readers would expect, the quest to achieve this goal has been full of danger, folly, and failure. From the earliest concepts, which predate the invention of the modern car, to surprisingly feasible incarnations of the Airphibian and plans currently still in development, Glass chronicles attempts of varying success. Many engineers came close to achieving their goals, and Glass celebrates the process of learning from mistakes as some inventors watch their visions crash and burn and then return to the drawing board to make revisions. Packed with period photographs, artists' renderings, and advertising ephemera that highlight the progression of prototypes, Glass' story of an idiosyncratic corner of the history of flight has ample eye-catching visual appeal. A revealing history celebrating thinkers who are not easily deterred, either by popular opinion or outright disaster.--Anderson, Erin Copyright 2015 Booklist
From Booklist, Copyright © American Library Association. Used with permission.
Horn Book In this enthusiastic overview, young readers are introduced to a number of attempts to create a car that could also serve as a viable aircraft. Each chronological entry discusses the technology of an inventor's attempted design; features diagrams and archival photos, advertisements, and media clips; and offers reasons these vehicles never really caught on. Bib., glos., ind. (c) Copyright 2016. The Horn Book, Inc., a wholly owned subsidiary of Media Source, Inc. No redistribution permitted.
(c) Copyright The Horn Book, Inc., a wholly owned subsidiary of Media Source, Inc. No redistribution permitted.
Kirkus Cars that fly? Only in stories like Harry Potter or Chitty Chitty Bang Bang or fantasy films, right? Nope, flying cars have been in existence since the beginning of the 1900s. Who knew? Author-illustrator Glass departs from the world of picture books (The Wondrous Whirligig, 2003, etc.) to apply his hand to long-form nonfiction. And what a high-flying job he has done. He devotes a chapter to each of 14 visionary men who believed they could prove that cars and planes could be fused into one flying machine. First was Gustave Whitehead, who designed a bird-shaped glider named the Condor in 1901; the last was Daniel Zuck, who predicted squadrons of commuters in Plane-Mobiles. The names of their machines were as imaginative as their inventions: Henry Ford's Sky Flivver, Harold Pitcairn's Autogiro, and Buckminster Fuller's Dymaxion car are just a sampling. The fascinating details of the dangers and difficulties each man faced read smoothly and engagingly. Glass' research is extensive and impeccable, and the archival black-and-white photos provide visual context. All in all, it's a tremendous narrative-nonfiction debut for a creator who's long been associated with the 32-page format. Start your engines and get ready to take off for an amazing read. (author's note, glossary, source notes, bibliography) (Nonfiction. 9-13) Copyright Kirkus Reviews, used with permission.
Copyright © Kirkus Reviews, used with permission.