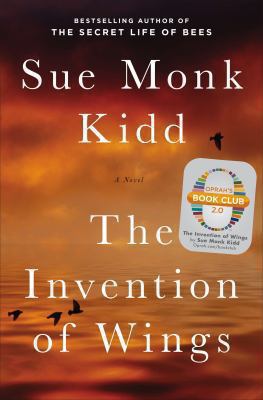 The Invention of Wings
by Sue Monk Kidd


Publishers Weekly Sarah and Handful Grimke split the narration in Kidd's third novel, set in pre-Civil War Charleston, S.C., and along an abolitionist lecture circuit in New England. Kidd (The Secret Life of Bees) is no stranger to strong female characters. Here, her inspiration is the real Sarah Grimke, daughter of an elite Charleston family, who fought for abolition and women's rights. Handful, Kidd's creation, is Sarah's childhood handmaid. The girls are friends. Sarah teaches Handful to read, and proclaims loudly at dinner that she opposes slavery. However, after being severely punished, she abandons her aspirations-for decades. Time passes, and Handful is given the freedoms she was formerly denied. The book's scope of 30-plus years contributes to a feeling of plodding in the middle section. Particularly insufferable is the constant allusion, by both women, to a tarnished button that symbolizes perseverance. But Kidd rewards the patient reader. Male abolitionists, preachers, and Quakers repeatedly express sexist views, and in this context, Sarah's eventual outspokenness is incredibly satisfying to read. And Handful, after suffering a horrific punishment, makes an invaluable contribution to an attempted slave rebellion. Bolstered by female mentors, Kidd's heroines finally act on Sarah's blunt realization: "We can do little for the slave as long as we're under the feet of men." Agent: Jennifer Rudolph Walsh, WME Entertainment. (Jan.) (c) Copyright PWxyz, LLC. All rights reserved.
(c) Copyright PWxyz, LLC. All rights reserved
Book list *Starred Review* Inspired by the true story of early-nineteenth-century abolitionist and suffragist Sarah Grimke, Kidd paints a moving portrait of two women inextricably linked by the horrors of slavery. Sarah, daughter of a wealthy South Carolina plantation owner, exhibits an independent spirit and strong belief in the equality of all. Thwarted from her dreams of becoming a lawyer, she struggles throughout life to find an outlet for her convictions. Handful, a slave in the Grimke household, displays a sharp intellect and brave, rebellious disposition. She maintains a compliant exterior, while planning for a brighter future. Told in first person, the chapters alternate between the two main characters' perspectives, as we follow their unlikely friendship (characterized by both respect and resentment) from childhood to middle age. While their pain and struggle cannot be equated, both women strive to be set free Sarah from the bonds of patriarchy and Southern bigotry, and Handful from the inhuman bonds of slavery. Kidd is a master storyteller, and, with smooth and graceful prose, she immerses the reader in the lives of these fascinating women as they navigate religion, family drama, slave revolts, and the abolitionist movement. HIGH-DEMAND BACKSTORY: Beginning with her phenomenally successful debut, The Secret Life of Bees (2002), Kidd's novels have found an intense readership among library patrons, who will be eager to get their hands on her latest one.--Price, Kerri Copyright 2010 Booklist
From Booklist, Copyright © American Library Association. Used with permission.
Library Journal Women played a large role in the fledgling abolitionist movement preceding the Civil War by several decades but were shushed by their male compatriots if they pointed out their own subservient status. One of several recent novels noting the similarity between women having few rights and slaves having none in the pre-Civil War American South (others include Marlen Suyapa Bodden's The Wedding Gift and Jessica Maria Tuccelli's Glow), Monk's (The Secret Life of Bees) compelling work of historical fiction stands out from the rest because of its layers of imaginative details of the lives of actual abolitionists from Charleston, SC-Sarah and Angelina Grimke-and Handful, a young slave in their family home. With her far more desperate desire for freedom, Handful steals the story from the two freethinking sisters while they wrestle with their consciences for years, still bound by society's strictures. VERDICT This richly imagined narrative brings both black history and women's history to life with an unsentimental story of two women who became sisters under the skin-Handful, a slave in body whose mind roves freely and widely, and "owner" Sarah, whose mind is shackled by family and society. [See Prepub Alert, 7/8/13.]-Laurie Cavanaugh, Holmes P.L., Halifax, MA (c) Copyright 2013. Library Journals LLC, a wholly owned subsidiary of Media Source, Inc. No redistribution permitted.
(c) Copyright Library Journals LLC, a wholly owned subsidiary of Media Source, Inc. No redistribution permitted.