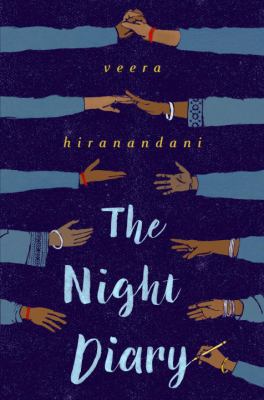 The Night Diary
by Veera Hiranandani


Publishers Weekly After introverted Nisha receives a diary for her 12th birthday, she begins to find her voice as she documents her family's upheaval amid the 1947 Partition of India. Nisha's journal entries, which are addressed to her deceased mother, take on new urgency as she witnesses India being "split in half like a log" along religious lines after gaining independence from Britain. As the daughter of a Hindu father and a Muslim mother, Nisha questions which side of the Indian-Pakistani border to call her own. But when her family is no longer safe in their home in the city of Mirpur Khas (which became part of Pakistan), they set out for "the new India." Hiranandani (The Whole Story of Half a Girl) places Nisha's coming of age against the violent birth of a nation. The diary format gives her story striking intimacy and immediacy, serving as a window into a fraught historical moment as Nisha grapples with issues of identity and the search for a home that remain quite timely. Ages 8-12. Agent: Sara Crowe, Pippin Properties. (Mar.) © Copyright PWxyz, LLC. All rights reserved.
(c) Copyright PWxyz, LLC. All rights reserved
School Library Journal Gr 5-8-Nisha writes to her Muslim mother, who died giving birth to her and her twin brother, Amil, in a diary she receives on their 12th birthday. Through her diary entries, Nisha documents the changes brought about by India's independence from the British. Nisha and Amil live with their Hindu father, paternal grandmother, and the family's Muslim chef, Kazi, and they must flee their city after independence. Hiranandani creates a world full of sensory experiences: "I ate a samosa. I ate it slowly, savoring the crispy outside tingling with the tart green chutney I dipped it in." Readers see the depth of Hiranandani's characters during the family's walk to the border, particularly Nisha's rarely affectionate father who gently cares for her brother and grandmother. Without contrivance, Hiranandani weaves parallels into Nisha's story-Nisha cooking with Kazi and Rashid Uncle, and Rashid Uncle's inability to speak along with Nisha's extreme shyness. She evenly and powerfully communicates the themes of family, faith, humanity, and loss. In the back matter, Hiranandani includes information about how her Indian father's experiences influenced this story and provides a glossary of Indian terms. VERDICT This rich, compelling story, which speaks to the turbulence surrounding India's independence and to the plight of refugees, should be in all libraries serving middle grade readers.-Hilary Writt, Sullivan University, Lexington, KY © Copyright 2018. Library Journals LLC, a wholly owned subsidiary of Media Source, Inc. No redistribution permitted.
(c) Copyright Library Journals LLC, a wholly owned subsidiary of Media Source, Inc. No redistribution permitted.
Book list A quiet, sensitive half Hindu, half Muslim girl tries to make sense of her place in a country literally divided during the India Partition in 1947. Twelve-year-old Nisha has always struggled to express herself to her family and schoolmates, so each night she turns to her diary, where she writes entries to her mother, who passed away when she was a baby. Nisha feels the diary helps make the mother she never knew more real, but it also becomes a tool to bring Nisha's own thoughts and feelings into focus as she sorts through confusion, loss, and terror as her family embarks on a dangerous, forced migration from Pakistan to their new home. Hiranandani's prose shines in both emotion and simple, rich description, especially with regards to Nisha's developing love of cooking. This new passion ties her to the beloved Muslim cook her family left behind, and becomes a way for Nisha to connect to her complicated family, fractured past, and homeland old and new. A clear, compelling, and deeply felt historical novel.--McIntyre, Beth Copyright 2018 Booklist
From Booklist, Copyright © American Library Association. Used with permission.