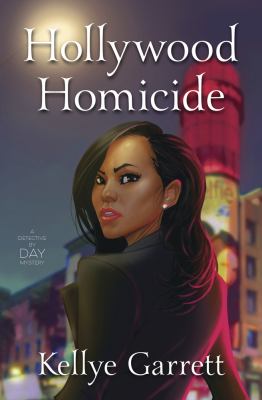 Hollywood Homicide
by Kellye Garrett


Library Journal Actress Dayna Anderson's 15 minutes of fame as the spokesperson for Chubby's Chicken, and her notable catchphrase "Don't think so, boo" are gone-as is her money. Job hunting is painfully unsuccessful and frequently compounded by her inability to cash in on her almost recognition factor. In dire need, Dayna latches onto the idea that she can claim the $15,000 reward for helping to solve a deadly hit-and-run accident that she witnessed. She starts digging around with the help of her friend (self-proclaimed future reality star) Sienna. Dayna is quickly hooked on the investigation, which seems to be connected to an infamous Hollywood crime spree, taking her from Hollywood hot spots to movie premieres. Then someone tries to kill her. TV writer Garrett (Cold Case) makes a smart, sassy debut, introducing an appealing protagonist with amusing friends who deliver one-liners and toss back drinks while solving the case. VERDICT Sure to be a hit with readers looking for a fresh new sleuth who isn't afraid to go to Tinsel Town. [See Jessica Moyer's Mystery Spotlight "Novel Crime Scenes," LJ 4/15/17.]-ACT © Copyright 2017. Library Journals LLC, a wholly owned subsidiary of Media Source, Inc. No redistribution permitted.
(c) Copyright Library Journals LLC, a wholly owned subsidiary of Media Source, Inc. No redistribution permitted.
Kirkus A stone-broke actress struggles to land the reward for solving a cold case.Since her stint as spokeswoman for Chubby's Chicken, a time when she was identified by the catchphrase "Don't think so, boo," Dayna Anderson has been the perpetual "Don't I know you?" girl, getting asked that same question by everyone from strangers on the LA streets to bros turning her down for barista gigs. Now if only that almost-recognition could somehow be turned into income for Dayna, who can't fill her car with gas, let alone help her folks back home avoid foreclosure on her childhood home. As her hopes of finding a job diminish by the day, Dayna hatches a half-baked scheme to earn the $15,000 reward offered for help solving a murder case, which she sees advertised on her daily constitutionalthat is, her walk to get a can of gas to rescue her car. It's not like Dayna's a stranger to the crime. She actually saw it take place, or at least parts of it. She remembers it all too well, because it happened the last night she talked with Omari Grant, a guy she's known since high school and who she's pretty sure was trying to move her out of the friend zone. The deceased is Haley Joseph, a college student whose life doesn't seem too far from Dayna's own until she starts digging around and begins to uncover multiple motives for Haley's murder. With her friend and self-proclaimed future reality star Sienna Hayes at her side, Dayna relies on turning her smarts and resourcefulness into answers and collecting the cash before her parents' house is gone for good. Veteran TV writer Garrett uses her Cold Case experience to inform her debut, which sets up more than one charming character and isn't afraid to go cynical on all things LA. Copyright Kirkus Reviews, used with permission.
Copyright © Kirkus Reviews, used with permission.
Publishers Weekly Hard-up, semiretired actress Dayna "Day" Anderson, the appealing narrator of Garrett's winning first novel and series launch, runs out of gas one day at a stoplight on an L.A. street. While pondering what to do next, she notices a billboard offering a $15,000 reward for information on the hit-and-run murder of aspiring actress Haley Joseph. Day, who realizes she passed by the scene of Haley's death some weeks earlier, decides it's time to turn private eye in an effort to work her way out of debt and save her parents' house from foreclosure. She wrangles assistance from her two best friends-flashy Sienna, a reality star in training, and no-nonsense Emme, the identical twin sister of Hollywood's biggest star. In the course of her investigation, Day comes to care more about catching the killer than earning the reward. A former magazine editor who's contributed to TV's Cold Case, Garrett writes with humor and insight about the Hollywood scene. Readers will look forward to Day's further adventures. Agent: Michelle Richter, Fuse Literary. (Aug.) © Copyright PWxyz, LLC. All rights reserved.
(c) Copyright PWxyz, LLC. All rights reserved