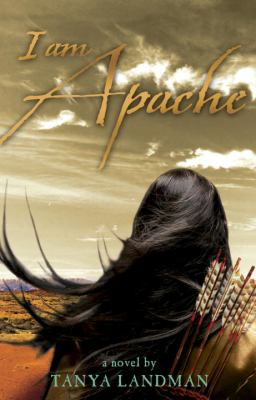 I am Apache
by Tanya Landman.


Book list Landman uses the tale of the woman who fought at the side of Geronimo as the kernel for her characters, world making, and plot, all of which ring with authenticity. Siki, a nineteenth-century Apache girl, describes the events of her teen years, from her young brother's death during a Mexican raid, through her work to become a full-fledged warrior, and to the death of her mentor, Golahka. Interactions among Siki's own people including her rogue peer who leaves the tribe rather than submit to its code of honor, and Siki's own acceptance as a female warrior and those between the Apache, the Mexicans, and the White Eyes, who destroy the old ways of the native peoples, are woven skillfully into the action. With an eloquent voice and dignified pace, Landman creates a credible and artistic story with excellent characterization and engaging psychological and sociopolitical questions. Although this will appeal to historical fiction or western readers, this well-written novel has much to offer those who are not genre readers as well.--Goldsmith, Francisca Copyright 2008 Booklist
From Booklist, Copyright © American Library Association. Used with permission.
School Library Journal Gr 7 Up-At the end of the 19th century, 14-year-old Siki is a member of Arizona's (fictional) Black Mountain Apache, and an orphan who lost both parents in battles with Mexicans. When she witnesses the brutal slaying of her four-year-old brother, Tazhi, by Mexican raiders, she vows to avenge his death and earns an unusual place, through her skills and relentless training, as a warrior among the men of her tribe. In an overwrought, floridly poetic first-person narrative (e.g., "the wind flowed in [Tazhi's] veins, and the sun itself seemed to shine through his eyes when he smiled"), Landman takes readers on a complex adventure full of jealousy, romance, visions, dark family secrets, bloody battles, daring rescues, and painful dealings with Mexicans and double-crossing "White Eyes." Historical accuracy is questionable, despite research evident not only in an extensive bibliography, but also in Siki's copious explanations of tribal ways and customs. Landman states in a historical note that every tribe and place name is fictional, and that she's "made no attempt to produce an accurate historical novel." Despite some efforts to create complex, "real" human characters and interactions, readers will certainly take away a notion of the Apache as wronged but brutal, doomed, vengeful warriors, and 19th-century Mexicans as heartless villains. Exciting, but problematic, to say the least.-Riva Pollard, Prospect Sierra Middle School, El Cerrito, CA Copyright 2008 Reed Business Information.
Copyright © Reed Business Information, a division of Reed Elsevier Inc. All rights reserved.