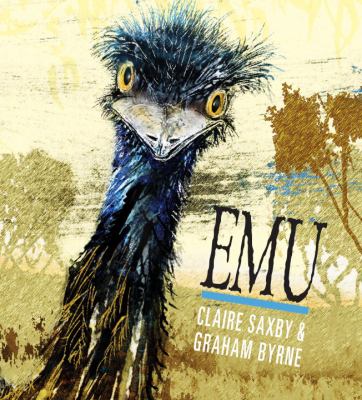 Emu
by Claire Saxby


School Library Journal K-Gr 3-This attractive picture book takes a look at emus, those strange-looking, flightless birds native to Australia. Byrne's sketchy, digitally created illustrations perfectly capture the essence of these scraggly birds, and the panoramic scenes of the Australian outback in the neutral tones of an arid savannah bring depth to the book. Saxby's simple text is ideal for curious readers. Each spread includes bits of a story about one particular bird, Emu, as well as basic animal facts. The narrative follows Emu as he watches over a brood of eggs, keeps them safe, and eventually raises his young (Saxby explains that emu fathers are the primary parents, as the mothers leave after laying eggs). VERDICT A strong choice for the 590s.-Dorcas Hand, Annunciation Orthodox School, Houston, TX © Copyright 2015. Library Journals LLC, a wholly owned subsidiary of Media Source, Inc. No redistribution permitted.
(c) Copyright Library Journals LLC, a wholly owned subsidiary of Media Source, Inc. No redistribution permitted.
Book list After Emu's mate lays her final egg and departs, he keeps the eggs safe and warm in their leafy ground nest for eight weeks, rarely leaving even to eat or drink. Finally, the eggs hatch. Emu guards the curious chicks and shows them how to find food. As they grow over the next six months, he guards them from predators. In one dramatic incident, he fights off an attacking eagle with his beak and claws. In this picture book first published in Australia, the story of Emu and his young family is printed in standard type as a read-aloud story, while small-type paragraphs in a hand-lettered font provide additional information related to elements in the narrative. A short index and a page of additional emu-related information are appended. A bit darker and edgier than standard picture-book illustrations of animals, the digital artwork is distinctive and handsome in its own way. A fine companion volume to Saxby and Byrne's Big Red Kangaroo (2015).--Phelan, Carolyn Copyright 2010 Booklist
From Booklist, Copyright © American Library Association. Used with permission.