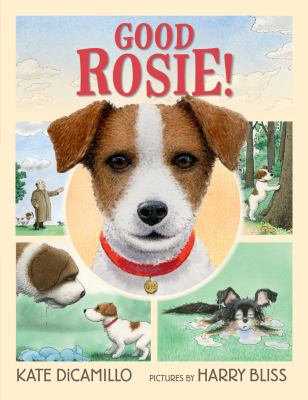 Good Rosie!
by Kate DiCamillo


Publishers Weekly Rosie the terrier and her middle-aged owner, George, are loving companions and creatures of habit. But when Rosie sees her reflection in her empty food bowl ("The other dog never answers"), she yearns for companions of her own species. One day, George decides to visit the local dog park, and Rosie is more than a little hesitant ("Rosie does not like the dog park. There are too many dogs."). Then she meets Fifi the Chihuahua and Maurice the Saint Bernard. Though their friendship is not without initial missteps (Rosie must overcome her innate reticence, Maurice must promise that he will not try to eat Fifi-again), it changes Rosie's world. DiCamillo's deep empathy for her shy, lonely protagonist will come as no surprise, but her portrayal of Rosie as genuinely puzzled by the mechanics of friendship is particularly astute. Bliss (Diary of a Worm) works in a paneled comics format, and it proves felicitous for his formal drawing style and deadpan humor. This is no shaggy dog story-it's thoughtful and funny, and a real gift for emerging readers. Ages 5-8. Author's and illustrator's agent: Holly McGhee, Pippin Properties. (Sept.) © Copyright PWxyz, LLC. All rights reserved.
(c) Copyright PWxyz, LLC. All rights reserved
Book list Short, episodic chapters and a gentle plotline make this winsome graphic novel particularly well suited to early readers. George and Rosie, a brown-and-white terrier, have a pretty solid routine of breakfast, a walk, and looking at clouds, but Rosie is lonely. George, a balding, bespectacled gentleman with a cane and a long coat, eventually catches on and takes Rosie to the dog park. But new dogs are scary to shy Rosie, and it takes some time before she finally warms up to the other pups at the park. Bliss' naturalistic, amiable cartoons appear on wide, open panels, and close-ups of George's and the dogs' faces make characters' feelings unmistakable, which will be particularly helpful for newly independent readers. Despite the story's low page count, DiCamillo infuses a surprising amount of character development: George recognizes his pal's loneliness; Rosie gets over her shyness; and three very different dogs figure out how to be friends. With humor and heart, this easy, inviting volume offers an empowering message to little ones nervous about making new friends.--Hunter, Sarah Copyright 2010 Booklist
From Booklist, Copyright © American Library Association. Used with permission.
School Library Journal PreS-Gr 1-Rosie the terrier loves her owner, George, but she feels lonely. Realizing that his pet needs to befriend other canines, George takes her to the park. But Rosie doesn't know any of these dogs, and she doesn't like Maurice, a hulking, drooly St. Bernard, or Fifi, a perky little papillon-at least not at first. Yet when an encounter between the other two dogs almost goes dreadfully wrong, Rosie steps in and discovers she might know more about friendship than she thought. Dividing the book into nine brief parts, author and illustrator allow this quiet graphic novel to unfold slowly. Though Bliss depicts idyllic, verdant parks full of smiling pups, he lets a hint of melancholy creep in as Rosie gazes longingly at dog-shaped clouds in the sky and her own reflection in her empty food dish. DiCamillo's contemplative, understated text perfectly complements Bliss's elegantly composed watercolors. Forging new bonds can be both tantalizing and overwhelming, they acknowledge, but children will feel up to the challenge after seeing Rosie conquer her anxieties. VERDICT A superb friendship story and a lovely choice for one-on-one sharing, especially with little ones with first-day-of-school jitters.-Mahnaz Dar, School Library Journal © Copyright 2018. Library Journals LLC, a wholly owned subsidiary of Media Source, Inc. No redistribution permitted.
(c) Copyright Library Journals LLC, a wholly owned subsidiary of Media Source, Inc. No redistribution permitted.