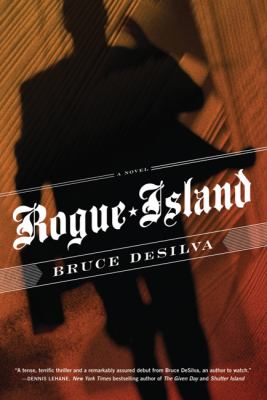 Rogue Island (Liam Mulligan)
by Rogue Island (Liam Mulligan)


Library Journal In DeSilva's impressive first novel, Liam Mulligan, an investigative reporter for a Providence newspaper, is faced with arson fires that already have killed five people. More fires break out as he uncovers a plot to redevelop his old neighborhood. Soon he is under suspicion, beaten, suspended, and threatened by mobsters. Mulligan is a classic hard-boiled sleuth with several twists. His hard-drinking is tempered by an ulcer, he is a loner with a younger girlfriend, and his caustic criticism of Rhode Island graft mixes with his idealism about print journalism. Journalist DeSilva is a 40-year newspaper veteran who began as an investigative reporter in Providence. He combines wit with a fondness for mystery traditions in Mulligan's dogged pursuit of truth. Verdict DeSilva has created wonderfully quirky characters, a tangled plot, and a likable, sarcastic protagonist. Mulligan knows well the mean streets of Providence, the horrors of death by fire, and the betrayal of friends. In the end, not all the villains are caught so one hopes that Mulligan will appear again. Highly recommended.-Roland Person, formerly with Southern Illinois Univ. Lib., Carbondale (c) Copyright 2010. Library Journals LLC, a wholly owned subsidiary of Media Source, Inc. No redistribution permitted.
(c) Copyright 2010. Library Journals LLC, a wholly owned subsidiary of Media Source, Inc. No redistribution permitted.
Publishers Weekly The serial torching of Mount Hope, a deteriorating Providence, R.I., neighborhood, sparks an investigative reporter's mission to smoke out the firebug in DeSilva's promising debut. Journalist Liam Mulligan, a Mount Hope native, smells arson in the ashes of tenement fires that have claimed the lives of several friends. The deeper he digs into suspicious circumstances surrounding the blazes, though, the more resistance he meets from police, politicians, landlords, and lawyers. Soon, Mulligan himself is fingered for the fires by the same sleazy authorities he's investigating. Smart-ass Mulligan is a masterpiece of irreverence and street savvy, and DeSilva does a fine job of evoking the seamy side of his beat through the strippers, barkeeps, bookies, and hoodlums who are his confidantes and companions. They all contribute to the well-wrought noirish atmosphere that supports this crime novel's dark denouement. A twist in the tale will keep readers turning the pages until the bitter end. (Oct.) (c) Copyright PWxyz, LLC. All rights reserved.
(c) Copyright PWxyz, LLC. All rights reserved
Book list *Starred Review* Born and raised in the Mount Hope section of Providence, Rhode Island, journalist Liam Mulligan won't simply report on the rash of arsons killing lifelong friends and loved ones in his old neighborhood. He wants to know more and launches an investigation, discovering a heavy-handed plot to own Mount Hope in order to redevelop it. Along the way, he's threatened, beaten, arrested on suspicion of arson and murder, suspended from his newspaper, and targeted with a Mob contract on his life. Mulligan must turn to some unlikely allies to save his tired old neighborhood and secure justice. Rogue Island has everything a crime fan could want: a stubborn, street-smart hero with a snarky sense of humor; more than a baker's dozen of engaging characters; a fast-paced plot; a noirish style; a realistic postmillennium newspaper setting; mean, pot-holed streets; and, best of all, a knowing portrait of a small city and a tiny state famous for inept government, jiggery-pokery, and corruption. Debut novelist DeSilva began a four-decade career in journalism as a reporter for the Providence Journal, and his take on the city and state is harsh but also affectionate, as when he describes graft as Rhode Island's leading service industry, noting that it comes in two varieties, good and bad, just like cholesterol. This tremendously entertaining crime novel is definitely one of the best of the year.--Gaughan, Thomas Copyright 2010 Booklist
From Booklist, Copyright © American Library Association. Used with permission.