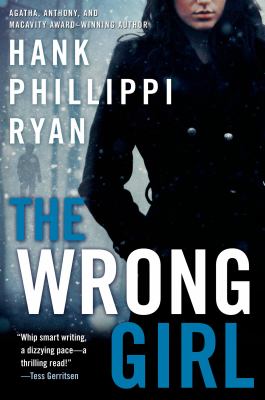 The Wrong Girl
by Hank Phillippi Ryan


Library Journal Ryan's stellar follow-up to The Other Woman throws Boston newspaper reporter Jane Ryland into a strange mystery. She hears the story of a former colleague, adopted as an infant, who used information provided by her adoption agency to find her birth mother, only to discover that the woman was not, in fact, her real mom. An investigation hints at a possible conspiracy with children reunited with the wrong parents. As this unfolds, a domestic violence case haunts Det. Jake Brogan. And though there is a crib at the crime scene, where is the baby? VERDICT Jane and Jake are engaging protagonists, and the will-they-or-won't-they tension will appeal to romance fans. The thrills are also abundant, and the plot takes a left turn when the reader is sure it's going right. Ryan has a gift for writing superb thrillers, and this one is sure to be a big hit with her growing fan base. [See Prepub Alert, 3/25/13.]-Jeff Ayers, Seattle P.L. (c) Copyright 2013. Library Journals LLC, a wholly owned subsidiary of Media Source, Inc. No redistribution permitted.
(c) Copyright Library Journals LLC, a wholly owned subsidiary of Media Source, Inc. No redistribution permitted.
Publishers Weekly A strong theme compensates for a heavy reliance on coincidence in Ryan's sequel to 2012's The Other Woman, a Mary Higgins Clark Award winner. Tucker Cameron, a former colleague of reporter Jane Ryland's at the Register, a Boston newspaper, asks for Jane's help in determining how a private adoption agency, Brannigan Family and Children Services, managed to "reunite" her with the wrong birth mother. Meanwhile, an anonymous phone call leads Det. Jake Brogan and his partner, Det. Paul DeLuca, to a Roslindale apartment, where they find the body of a woman who's suffered a fatal blow to the head, but no murder weapon accompanying it. Jane's editor assigns her to cover the killing, setting the stage for a complex investigation. Ryan does a good job portraying the foster care and adoption systems, their shortcomings, abuses, and overpowering demands. Intriguing secondary characters, including an idealistic worker at Brannigan, support the well-matched Jane and Jake, whose romance continues to smolder. Author tour. Agent: Lisa Gallagher, Sanford J. Greenburger Associates. (Sept.) (c) Copyright PWxyz, LLC. All rights reserved.
(c) Copyright PWxyz, LLC. All rights reserved
Book list *Starred Review* Reporter Jane Ryland is on the trail of something big enough to ensure her continued employment on the downsizing Boston Republic when an anonymous threatening phone call makes her editor pull her off the story. Sidelined, she takes time to help former colleague Tuck Cameron, an adoptee just paired with her birth mother, who is distressed that the private Brannigan adoption agency that placed her made a mistake and that she's the wrong girl. Jane still continues to ferret out angles of the story of an unidentified woman killed in a house with two young toddlers present and evidence of a missing baby, a case being worked by her not-quite-lover Detective Jake Brogan. As Jake tries to avoid Jane on the job, he also has to deal with a case involving two top Brannigan administrators found dead days apart under questionable conditions. Investigative television reporter Ryan fulfills the promise of her first Jane Ryland mystery, The Other Woman (2012), as she blends a social issue the cost to young children of an overworked and underfunded foster care system into a crisp, fast-moving police procedural featuring reverberating illegalities, increasing danger and suspense, and crackling sexual tension between Ryland and Brogan. Another winner from Ryan.--Leber, Michele Copyright 2010 Booklist
From Booklist, Copyright © American Library Association. Used with permission.