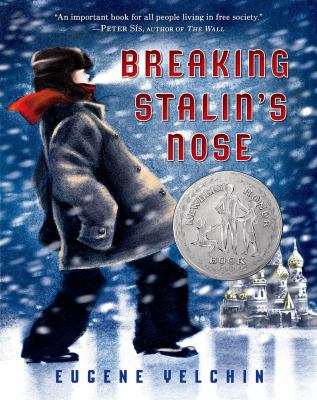 Breaking Stalins Nose
by Eugene Yelchin


School Library Journal Gr 5-7-Velchin skillfully combines narrative with dramatic black-and-white illustrations to tell the story of life in the Soviet Union under Stalin. Sasha Zaichik, the 10-year-old son of a member of the secret police, is bursting with pride because he is ready to become a Young Pioneer. He is equally excited that his father will be officiating at the ceremony. But then he watches as his father is taken away to prison, turned in by a neighbor vying for bigger living quarters. Sasha joins his peers in taunting Borka Finkelstein, their only Jewish classmate, even though readers sense that he doesn't really want to do it. The question of who is a good Communist underlies much of the plot. The book's intriguing title refers to Sasha's accidentally breaking the nose off a bust of Stalin. Borka, desperate to see his imprisoned parents, confesses to the action, with the hope that he will be taken to prison, too. Sasha does not admit his own guilt. Eventually disillusionment overtakes homeless Sasha as he waits in line to visit his father. Velchin's illustrations are filled with pathos and breathe life into the narrative. Though there are many two-dimensional characters, mostly among the adults, Sasha and Borka are more fully drawn. While the story was obviously created to shed light on the oppression, secrecy, and atrocities under Stalin's regime, Sasha's emotions ring true. This is an absorbing, quick, multilayered read in which predictable and surprising events intertwine. Velchin clearly dramatizes the dangers of blindly believing in anything. Along with Ruta Sepetys's Between Shades of Gray (Philomel, 2011), this selection gives young people a look at this dark history.-Renee Steinberg, formerly at Fieldstone Middle School, Montvale, NJ (c) Copyright 2011. Library Journals LLC, a wholly owned subsidiary of Media Source, Inc. No redistribution permitted.
(c) Copyright 2010. Library Journals LLC, a wholly owned subsidiary of Media Source, Inc. No redistribution permitted.
Book list Growing up under Stalin, Sasha Zaichik, 10, lives with his widower dad and 48 others in a crowded apartment with one kitchen and one toilet. Sasha's dream is to be like his father, serving the great leader and working in the State Security secret police. Then his dad is arrested: did a neighbor betray him? At school, Sasha is recruited to report on anticommunist activity. The present-tense narrative is true to the young kid's naive viewpoint, but the story is for older readers, especially as the shocking revelations reach the climax of what torture can make you confess. Picture-book illustrator Yelchin was raised in post-Stalinist Russia in the 1960s and left the country when he was 27. In his first novel, he uses the child's innocent viewpoint to dramatize the heartbreaking secrets and lies, and graphite illustrations show the terrifying arrests of enemies of the people, even children, like Sasha's classmate. In an afterword, Yelchin discusses the history and the brutal regime that affected millions.--Rochman, Hazel Copyright 2010 Booklist
From Booklist, Copyright © American Library Association. Used with permission.
Publishers Weekly Picture book author/illustrator Yelchin (Won Ton) makes an impressive middle-grade debut with this compact novel about a devoted young Communist in Stalin-era Russia, illustrated with dramatically lit spot art. Ten-year-old Sasha lives with his father, a State Security secret policeman whom he worships (almost as much as he worships Stalin), and 46 others in a communal apartment. The story opens on the eve of the fulfillment of Sasha's dream-to become a Young Soviet Pioneer-and traces the downward spiral of the following 24 hours, as he resists his growing understanding that his beloved Communist state is far from ideal. Through Sasha's fresh and optimistic voice, Yelchin powerfully renders an atmosphere of fear that forces false confessions, even among schoolchildren, and encourages neighbors and family members to betray one another without evidence. Readers will quickly pick up on the dichotomy between Sasha's ardent beliefs and the reality of life under Stalinism, and be glad for his ultimate disillusion, even as they worry for his future. An author's note concisely presents the chilling historical background and personal connection that underlie the story. Ages 9-12. (Sept.) (c) Copyright PWxyz, LLC. All rights reserved.
(c) Copyright PWxyz, LLC. All rights reserved