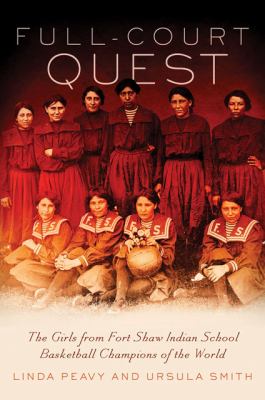 Full-court quest : the girls from Fort Shaw Indian School, basketball champions of the world
by Linda Peavy ; Ursula Smith.


Book list At the 1904 World's Fair in St. Louis, the girls' basketball team from the tiny Fort Shaw Indian School of Montana bested the field to win the designation of World Champions.   Peavy and Smith, two distinguished historians, began their research into this long-forgotten athletic milestone when they discovered a single photograph in the archives of the Montana Historical Society in 1997. This book is the product of 10 years of research, which included interviews with the descendants of the principles and study of newspaper accounts and public records. The authors recount the basketball side of Fort  Shaw's unlikely triumph and place it within the larger context of American and Native American history. They also explore the dynamics of tribal affiliation as it related to the team and the family pressures that came into play as these young women embarked on a decidedly nontraditional adventure. Along with the historical detail, the authors are able to re-create the personalities of the players, giving the book narrative appeal and turning what could have been the dry history of an obscure event into a vibrant human story of accomplishment.--Lukowsky, Wes Copyright 2008 Booklist
From Booklist, Copyright © American Library Association. Used with permission.
Choice In March 2009, St. Louis hosted arguably the most talked about women's sport event in the US, the NCAA Women's Final Four. Peay and Smith look at a gathering in St. Louis a century earlier: ten young women--representing seven Indian nations from the Fort Shaw Indian School--brought honor to themselves and their ancestors by becoming basketball "champions" of the 1904 St. Louis World's Fair. Thanks to meticulous research (in Bureau of Indian Affairs reports, letters, newspapers, magazines, oral histories from the players' descendants, and photographs), the authors offer both a compelling narrative about these women's experience--as they left families on reservations and farms and adjusted to the forces of assimilation in a government-run boarding school--and insights into white-Indian relations, gendered expectations for men and women, and regional and national attitudes. Navigating racially charged social and political terrain with dignity and purpose, the women on the Fort Shaw team forged their own identity and became celebrities at a time when few women achieved public acclaim and notoriety. A fine book, complementing John Bloom's To Show What an Indian Can Do (2000), Sally Jenkins's The Real All Americans (2007), and Ian Frazier's On the Rez (2000). Summing Up: Highly recommended. Upper-division undergraduates through faculty; general readers. E. J. Staurowsky Ithaca College
Copyright American Library Association, used with permission.
School Library Journal Adult/High School-At the turn of the 20th century, an important aspect of the federal policy toward many American Indian tribes was assimilation through education. Boarding schools were established off reservation, as well as on, and government officials actively and aggressively recruited children to attend them. Among the students in the school established at Fort Shaw in Montana were a group of young women who would become famous in Montana, and a popular attraction at the 1904 World's Fair. Their story is told in this well-researched and well-documented book. Leaving their families and arriving at different ages for different reasons, they came together to play the new game of basketball and were quite successful. Peavy and Smith's book is a remarkably rosy picture of an Indian boarding school. While the authors mention that students ran away, that they were separated from their families for long periods of time, and that they were required to speak only English and leave behind traditional dress and culture, these factors seem not to have affected these talented athletes. It is not until the last few pages that the authors specifically, and briefly, address the cost of the success of the girls' team, and the federal Indian educational policy. Still, the book tells a story long forgotten about these "world champions."-Mary Ann Harlan, Arcata High School, CA Copyright 2009 Reed Business Information.
Copyright © Reed Business Information, a division of Reed Elsevier Inc. All rights reserved.