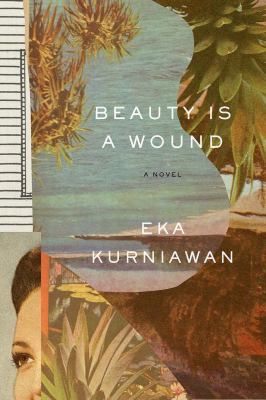 Beauth Is a Wound
by Eka Kurniawan and Annie Tucker


Library Journal This English-language debut of trending Indonesian author Kurniawan opens with beautiful prostitute Dewi Ayu arising from the grave after 21 years and encountering her child Beauty, whom she had cursed with ugliness. The initial feeling of legend, dare one say magic realism, is quickly overtaken by the brutal facts of Indonesian history, from the last gasp of Dutch colonialism to World War II and the bloody battle for independence and against presumed Communists. VERDICT A lush, raucous, and fabulous saga. © Copyright 2015. Library Journals LLC, a wholly owned subsidiary of Media Source, Inc. No redistribution permitted.
(c) Copyright Library Journals LLC, a wholly owned subsidiary of Media Source, Inc. No redistribution permitted.
Publishers Weekly At the beginning of this English-language debut from Indonesian author Kurniawan, Dewi Ayu, who was once the most respected prostitute in the fictional coastal town of Halimunda, rises from her grave after being dead for two decades. She's returned to pay a visit to her fourth daughter, Beauty, who is famously ugly. What follows is an unforgettable, all-encompassing epic of Indonesian history, magic, and murder, jumping back to Dewi Ayu's birth before World War II, in the last days of Dutch rule, and continuing through the Japanese occupation and the mass killings following the attempted coup by the Indonesian Communist Party in the mid-1960s. Kurniawan centers his story on Dewi Ayu and her four daughters and their families. Readers witness Dewi Ayu's imprisonment in the jungle during the war, a pig turning into a person, a young Communist named Comrade Kliwon engaging in guerrilla warfare, and a boy cheating in school by asking ghosts for help. Indeed, the combination of magic, lore, and pivotal events reverberating through generations will prompt readers to draw parallels between Kurniawan's Halimunda and García Márquez's Macondo. But Kurniawan's characters are all destined for despair and sorrow, and the result is a darker and more challenging read than One Hundred Years of Solitude. There is much physical and sexual violence, but none of it feels gratuitous-every detail seems essential to depicting Indonesia's tragic past. Upon finishing the book, the reader will have the sense of encountering not just the history of Indonesia but its soul and spirit. This is an astounding, momentous book. (Sept.) © Copyright PWxyz, LLC. All rights reserved.
(c) Copyright PWxyz, LLC. All rights reserved
Book list *Starred Review* Beauty is a wound and a curse. Arguably nobody knows this better than Dewi Ayu, the larger-than-life anchor of Kurniawan's glorious English-language debut. Set upon the path of prostitution after serving as a Japanese comfort woman, the Dutch-Indonesian Dewi Ayu and her vibrant and troubled life serve as potent allegory for Indonesia itself, an island nation that is strikingly rich in beauty and natural resources yet cursed with more than its share of political turmoil. Dewi's daughters, Alamanda, Adinita, Maya Dewi, and Beauty most of whom inherit her legendary good looks are all trapped in damaging relationships, even if they eke out a modicum of grace in the end. Indonesia's milestones the Japanese occupation, the rise of communism, and Suharto's despotic reign are reflected in the women's individual narratives. The lively folk tales and mythological stories from the Mahabharata that pepper the novel cleverly mask such darker elements as rape and bestiality, the inclusion of which, one should add, feels organic and never gratuitous. Even if the allegories sometimes seem forced, what emerges is a vivid, bawdy, and arresting epic painted with bold strokes on a vast canvas. Highly recommended.--Apte, Poornima Copyright 2015 Booklist
From Booklist, Copyright © American Library Association. Used with permission.