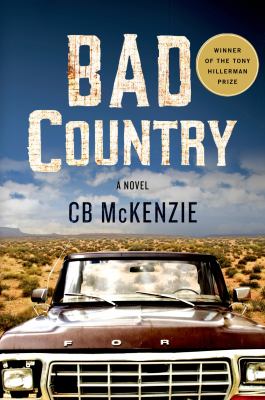 Bad Country
by C.B. McKenzie


Book list A series of murders in remote Los Jarros County in southernmost Arizona soon involves PI Rodeo Grace Garnet: the fourth victim is found shot in his front yard when he and his dog return from a week's vacation. Then Garnet is hired by the grandmother of the third victim, 18-year-old Sammy Rocha, to find his killer. Native American Garnet, who grew up on the res but was trained to be a cowboy and had brief success on the rodeo circuit, soon identifies as his top suspect a dangerous man who turns out to have loved Sammy and threatens bodily harm if Garnet doesn't find the real killer. At the same time, a state cop is turning a suspicious eye on Garnet himself because he previously apprehended and beat to death a serial killer. Garnet is a protagonist who's private to his core as he operates in the worlds of the Anglo and the Indian but seems to belong to neither. Winner of the 2013 Tony Hillerman Prize for the best first mystery set in the Southwest, this is a fine example of southwestern noir.--Leber, Michele Copyright 2014 Booklist
From Booklist, Copyright © American Library Association. Used with permission.
Library Journal This Southwestern-flavored series launch introduces retired bronco rider-turned-PI Rodeo Grace Garnet. Raised on Arizona's Pascua Yaqui Reservation but caught between the Anglo and Native American worlds, Rodeo mourns the passing of the traditional ways. Returning from vacation, he discovers a corpse sprawled on the road in front of his house. The victim is a member of a local tribe. There has been a spate of unsolved murders in Los Jarros County, which Sheriff "Apache" Ray Molina is investigating. Then Luis Encarnacion, proprietor of the Twin Arrows Trading Post and Rodeo's best friend, urges Rodeo to probe the drive-by shooting of a young Hispanic boy, Samuel Rocha, in Tucson. Soon Apache Ray is dead, along with a professor from the university, and Rodeo is beaten up by Ronald Rocha, Samuel's uncle. Someone knows a lot more than they are saying. VERDICT Winner of the Tony Hillerman Prize for the Best Debut Mystery set in the Southwest, this edgy noir offers a master class on how to create a vivid sense of mood and place. Rodeo is a hard-nosed, hard-drinking man who searches for the truth as he understands it. Fans of the late, great Hillerman will cheer the arrival of a promising newcomer. [Previewed in Kristi Chadwick's "Pushing Boundaries" mystery feature, LJ 4/15/14.] (c) Copyright 2014. Library Journals LLC, a wholly owned subsidiary of Media Source, Inc. No redistribution permitted.
(c) Copyright Library Journals LLC, a wholly owned subsidiary of Media Source, Inc. No redistribution permitted.
Publishers Weekly Originality is the strong suit of Mackenzie's Tony Hillerman Prize-winning debut. PI Rodeo Grace Garnet, a Pascua Yaqui who's the sole resident of Vista Montana Estates in El Hoyo, Ariz., returns home from vacation to find a man shot dead by his front gates, "two jumbled piles of cinder block" on either side of a dirt road. Garnet first calls Sheriff "Apache" Ray Molina to report the crime, then notifies his lawyer, Jarred Willis, in Tucson, just in case law enforcement wants him for questioning. Later, a state trooper asks Garnet about three other recent murders in the area. Meanwhile, Katherine Rocha, a fellow Pascua Yaqui, asks him to look into the drive-by killing of her gang-member grandson, though she's curiously indifferent to his fate. Wild cards include Garnet's ex-girlfriend and Ray's daughter, Sirena Rae Molina, and anthropology professor Tinley Burke, who dreams of being a writer. Drawing on this melange of quirky personalities and Southwestern settings, McKenzie offers the reader an intriguing mystery and a new hero. (Nov.) (c) Copyright PWxyz, LLC. All rights reserved.
(c) Copyright PWxyz, LLC. All rights reserved