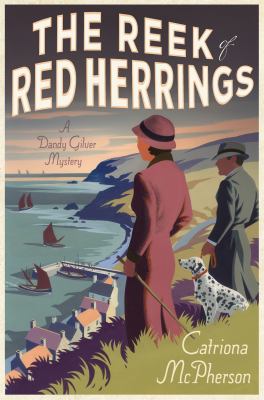 The Reek of Red Herrings
by Catriona McPherson


Publishers Weekly Gothic touches enliven McPherson's ninth Dandy Gilver mystery set in Scotland (after 2014's A Deadly Measure of Brimstone). In 1930, a distressed H. Birchfield of Birchfield & Sons, a fish distributor, approaches PI Dandy and her fellow investigator, Alec Osborne. Body parts found in barrels of herring clearly indicate foul play, yet the livelihoods of Birchfield's far-from-wealthy employees will be threatened if word spreads and the authorities step in. Dandy and Alec trace the source to a village in Banffshire and masquerade as sibling folklorists to conduct discreet inquiries. They encounter townspeople with a permissive view of premarital sex, a minister and doctor who exchange dueling quotations, an eccentric pair of brothers with a museum of curiosities, an artistic English couple, and a less than gracious landlady. The Scots dialect and multiple names for villagers may pose some difficulties, but an exciting climax and the moral dilemmas confronting Dandy and Alec deliver rewards for readers. Agent: Lisa Moylett, Coombs Moylett Literary Agency. (Dec.) © Copyright PWxyz, LLC. All rights reserved.
(c) Copyright PWxyz, LLC. All rights reserved
Kirkus Dandy Gilver and her gentleman sidekick, Alec Osborne, take to the wintry coast of Scotland in their fifth investigation (A Deadly Measure of Brimstone, 2014, etc.).A prosperous merchant summons Gilver and Osborne with an unpleasant mystery: the barrels of herring he wholesales have turned up containing human remains. Desperate to keep the news out of the public eye, he dispatches Dandy and Alec to his source: Gamrie, a tiny fishing village clinging precariously to the cliffs over the North Sea. Presenting themselves as philologists, Dandy and Alec have license to ask nosy questions about not only the folk traditions and Scottish vernacular peculiar to these insular fisherfolk, but also any mysterious deaths or strangers come to town. Their dogged investigation uncovers a host of colorful characters: an exceedingly sanctimonious parson, a couple of Bohemian painters, a most uncanny pair of taxidermists, and the hearty young girls who follow the boats to gut and pack the herring. Dandy and Alec close in on the murderer just as a vicious storm closes in on Christmas Eve. The ending, telegraphed a bit early in the story, is fully gothica grisly shocker but also a tidy piece of justice. The detectives are stalwart stock characters of interwar Britain, but the setting of this cozy thriller is vividly detailed and full of creeping menace. Copyright Kirkus Reviews, used with permission.
Copyright © Kirkus Reviews, used with permission.
Library Journal Dandy Gilver (A Deadly Measure of Brim-stone) and fellow investigator Alec Osborne travel to northern Scotland to look into body parts found in barrels of fish. Quaint village ways clash with macabre villains. © Copyright 2016. Library Journals LLC, a wholly owned subsidiary of Media Source, Inc. No redistribution permitted.
(c) Copyright Library Journals LLC, a wholly owned subsidiary of Media Source, Inc. No redistribution permitted.
Book list Most of the titles in this series have included the name of its upper-class Scottish detective (Dandy Gilver and a Bothersome Number of Corpses, 2013), but this time, as Dandy's partner, Alec Osborne, steps up, the focus is more on the mystery's subject, in this case literal red herrings. Dandy and Alec are hired by a fish-industry magnate whose business is about to be ruined by the discovery of human remains in several of the herring barrels. The duo decamps to a small fishing village, posing as folklorists to win the town's trust. Part of their job is translating the villagers' almost undecipherable accent, which befuddles Dandy and Alex and will annoy readers as it stops the action. But, dialects aside, this is a grand mystery, full of fishy motives, events that don't pass the smell test, and, of course, plenty of metaphorical red herrings, all leading to a well-thought-out and clever ending. Mrs. Gilver's husband, who appears briefly, seems like a boring toff, so perhaps something romantic will develop between the detecting partners. Which would be fine and Dandy.--Cooper, Ilene Copyright 2016 Booklist
From Booklist, Copyright © American Library Association. Used with permission.