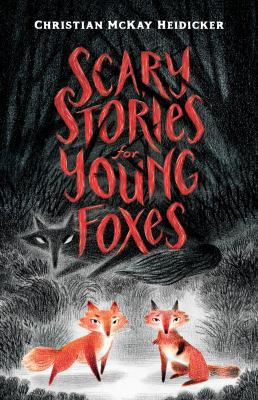 Scary Stories for Young Foxes
by Christian McKay Heidicker,


Book list Heidicker (Attack of the 50-Foot Wallflower, 2018) deftly transitions from YA to middle-grade fiction with his account of seven fox kits on the prowl for scary bedtime stories. Cute, right? Only if you find the anxious cowering of both kids and kits endearing. But for a certain type of reader those lost in a battered copy of Alvin Schwartz's Scary Stories to Tell in the Dark this is exactly the kind of book they're hunting for. The vulpine siblings venture into Antler Wood to find Bog Cavern, a place, their mother has cautioned, where an old storyteller lives who will tell them a story so frightening it will put the white in your tail. This is no exaggeration: the storyteller doles out two tales of two kits, Mia and Uly, who endure different horrors, from injuries to hunters' traps to rabid animals, eventually bringing their narratives together. Throughout, the stories are punctuated with unsettling black-and-white illustrations and pauses to momentarily shift the focus back to the original seven kits, effectively building suspense and providing momentary relief for the storyteller's audience. As the tensions and dangers build, the siblings' numbers dwindle as they slip away for the comfort of their den. Kids able to brave the harrowing adventures of Mia and Uly are in for a chilling roller coaster of a read.--Julia Smith Copyright 2010 Booklist
From Booklist, Copyright © American Library Association. Used with permission.
Publishers Weekly An ancient fox storyteller presents eight interwoven tales to seven intrepid fox kits in this inventive middle-grade debut by Heidicker (Attack of the 50 Foot Wallflower). The kits' eyes are opened to real-world trauma as they follow the harrowing journeys of Mia and Uly, two young foxes who encounter disease, humans, predators, hunger, separation, and loss. As each tale grows progressively darker, the kits must question their fearlessness and consider returning to the safety of their mother's side. Heidicker ratchets up the tension as his protagonists encounter poisonous snakes, a rabies-like affliction called the yellow, an abusive fox father, author Beatrix Potter moonlighting as a taxidermist, light body horror, and more. Beguiling, intricate, black-and-white illustrations enrich the text, while the narrative framing device offers distance from the bleakness that Mia and Uly face. Heidicker presents but doesn't fully develop themes of loss and anthropogenic change, and readers may gloss over them as they fly through the swiftly moving story. An entertaining read for those who enjoy spooky animal thrills. Ages 9–12. Agent: John M. Cusick, Folio Literary. (Aug.)
(c) Copyright PWxyz, LLC. All rights reserved
Kirkus Two young foxes struggle to survive predators, the elements, and their families.In a frame, seven fox kits are eager to hear some scary stories. For "a story so frightening it will put the white in your tail," their mother sends them to "the old storyteller," an elderly fox in a cavern, who proceeds to spin a tale of vulpine horror. At first the stories seem unrelated; Mia is separated from her loving family, while Uly is exiled. Soon the kits' stories intertwine as the horrors they survive increase and multiply. After a rocky start prosewise (repetitive adjectives, slightly ornate descriptions), the story picks up, and the "scary stories" border on downright disturbing. There's domestic horrorMia survives an encounter with her beloved teacher, who's gone rabid, and Uly is terrorized by his sisters and father because he's disabled. Later Mia is trapped by Beatrix Potter, who murders animals after using them as inspiration for her stories, and Uly is attacked by a Golgathursh, "a whirlwind of scaly limbs." Ethereal sketches in what looks like charcoal add to the atmosphere, with appealing fox kits set against menacing backgrounds. The stomach-clenching fear and suspense are resolved by a happy ending, but some readerssensitive animal lovers especiallymay have a hard time reaching it. Similarly, the abuse that Uly faces from his family due to his disability may be painful to read.Dark and skillfully distressing, this is a story for the bold. (Horror. 9-14) Copyright Kirkus Reviews, used with permission.
Copyright © Kirkus Reviews, used with permission.