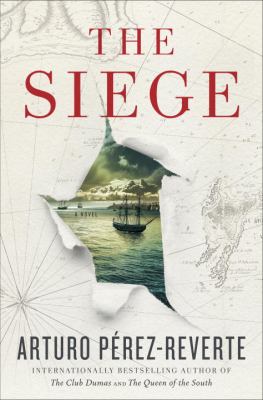 Siege: A Novel
by Arturo Perez-Reverte


Library Journal The best-selling author of The Club Dumas and the Captain Alatriste series returns with this colorful tale of antiheroes, class boundaries, and love and war played out on the chessboard that is the Spanish port city of Cádiz in 1811. The town is besieged on the outside by Napoleon's army and torn from within by the political conflict between the royalists loyal to the captured King Fernando VII and constitutionalists at work in the parliament. Meanwhile, the city fills with the disenfranchised, the poor and wounded, and refugees of all classes, while smugglers and spies make profits and a killer walks its war-torn streets. The ever-present and dangerous police commissioner Rogelio Tizón relentlessly pursues a murderer who barbarously tortures his victims to death. No woman is safe from the killer, and no man is safe from Tizón. Verdict Pérez-Reverte expertly details a suspenseful game between two expert players set against the dramatic backdrop of a city under siege. The author's many fans won't be disappointed. [See Prepub Alert, 5/12/14.]-Michelle Martinez, Sam Houston State Univ. Lib., Huntsville, TX (c) Copyright 2014. Library Journals LLC, a wholly owned subsidiary of Media Source, Inc. No redistribution permitted.
(c) Copyright Library Journals LLC, a wholly owned subsidiary of Media Source, Inc. No redistribution permitted.
Book list Pérez-Reverte writes two kinds of novels: richly detailed historical thrillers (The Nautical Chart, 2001) and swashbuckling adventures (Pirates of the Levant, 2010). Lately, he has been sticking to the latter, but here he combines both forms in a complex, history-drenched tale of the siege of Cádiz by the French in the early nineteenth century. The action takes place in 1812, with the port of Cádiz, nicely protected by water, remaining unconquered as Napoleon's forces sweep across Spain. Pérez-Reverte tracks multiple characters on both French and Spanish sides, focusing on two stories: the attempts of ruthless police commissioner Rogelio Tizón to find a serial killer, who is preying on young women, and the travails of businesswoman Lolita Palma to manage her dead father's shipping business in the face of the French blockade and bombing of the city. With grave misgivings, Palma agrees to fund a Spanish corsair (pirate ship) to raid French ships along the coast, and so she comes in contact with Pépé Lobo, the ship's captain, to whom she is immediately attracted. There may be a little too much going on here the density of both the prose and the story lines can seem almost suffocating at times but there is no denying the author's ability to build character, evoke landscape, and communicate the crush of history on individual lives. HIGH-DEMAND BACKSTORY: Pérez-Reverte, an international best-seller and a favorite among booksellers and librarians, has not had a new book since 2010 and will attract plenty of attention with this one.--Ott, Bill Copyright 2014 Booklist
From Booklist, Copyright © American Library Association. Used with permission.