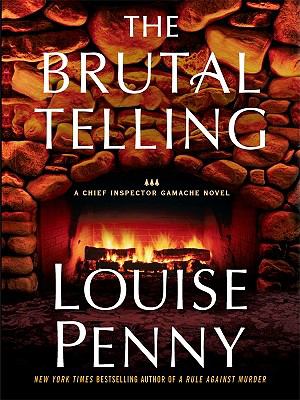 The brutal telling
by Louise Penny


Library Journal Having won numerous mystery prizes, including the prestigious Arthur Ellis and Anthony awards for her debut, Still Life, Canadian author Penny has only gotten better with each succeeding novel. Her fifth in the series is the finest of all. Featuring series protagonist Chief Inspector Gamache, this literary mystery explores the ways in which sins of the past have a way of resurrecting themselves, wreaking havoc upon their perpetrators, and, unfortunately, the innocent. Thus, when a hermit is slain in the woods near an isolated village in rural Quebec, secrets surface, unmasking characters who have adopted benign personae to conceal their questionable past deeds. Fortunately, sagacious Gamache possesses the acumen to peel away the layers of deceit and to expose the truth. Verdict This superb novel will appeal to readers who enjoy sophisticated literary mysteries in the tradition of Donna Leon. [See Prepub Mystery, LJ 6/1/09; 100,000-copy first printing; library marketing campaign.]-Lynne F. Maxwell, Villanova Univ. Sch. of Law, PA (c) Copyright 2010. Library Journals LLC, a wholly owned subsidiary of Media Source, Inc. No redistribution permitted.
(c) Copyright Library Journals LLC, a wholly owned subsidiary of Media Source, Inc. No redistribution permitted.
Book list *Starred Review* This fifth in Penny's celebrated Armand Gamache series finds the chief inspector of the Sūreté du Quebec returning once again to the tiny village of Three Pines, where murder seems to disrupt the comfortable routines of the residents with alarming frequency. This time the body of an unknown man has turned up on the floor of the village bistro and antique shop. With a sophistication and a sense of empathy that will remind readers of P. D. James' Adam Dalgleish, Gamache and his team tease information out of the recalcitrant locals, many of whom have appeared in previous books. When the identity of the man, a hermit who was living in a cabin deep in the woods, is finally revealed, the case expands its boundaries, as Penny leapfrogs gracefully from village rivalries and festering grudges to the international antiques trade and the works of legendary Canadian artist Emily Carr. What holds the book together, though, is the calming presence of Gamache, whose mix of erudition and intuition draws readers in just as it lulls suspects into revealing a little too much. Penny has been compared to Agatha Christie, and while there is a surface resemblance there, it sells her short. Her characters are too rich, her grasp of nuance and human psychology too firm for the formula-bound Christie. No, Penny belongs in the hands of those who read not only P. D. James but also Donna Leon, who, like Penny, mixes her hero's family and professional lives fluidly and with a subtle grasp of telling detail.--Ott, Bill Copyright 2009 Booklist
From Booklist, Copyright © American Library Association. Used with permission.
Publishers Weekly When the body of an unknown old man turns up in a bistro in Agatha-winner Penny's excellent fifth mystery set in the Quebec village of Three Pines (after Jan. 2009's A Rule Against Murder), Chief Insp. Armand Gamache investigates. At a cabin in the woods apparently belonging to the dead man, Gamache and his team are shocked to discover the remote building is full of priceless antiquities, from first edition books to European treasures thought to have disappeared during WWII. When suspicion falls on one of Three Pines' most prominent citizens, it's up to Gamache to sift through the lies and uncover the truth. Though Gamache is undeniably the focus, Penny continues to develop her growing cast of supporting characters, including newcomers Marc and Dominique Gilbert, who are converting an old house-the site of two murders-into a spa. Readers keen for another glimpse into the life of Three Pines will be well rewarded. 100,000 first printing. (Oct.) (c) Copyright PWxyz, LLC. All rights reserved
(c) Copyright PWxyz, LLC. All rights reserved