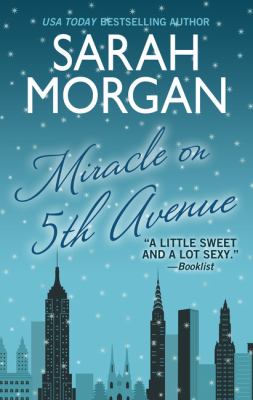 Miracle on 5th Avenue
by Sarah Morgan


Publishers Weekly Morgan completes her From Manhattan with Love trilogy (Sunset in Central Park) at Christmastime, with a sweet, snowy take on the "opposites attract" trope that lets optimism win the day. Crime writer Lucas Blade's grandmother hires lonely Eva Jordan, a caterer, personal assistant, and unshakable romantic, to decorate and fill the freezer of his penthouse while he's away on retreat, but Eva discovers the whiskey-drinking, widowed, Scrooge-like Lucas in residence when she arrives. Eva becomes the inspiration for Lucas's new novel's protagonist, and though he takes the opportunity to shoot down her sunny worldview at every turn, she slowly convinces him to open up about his past and begins to thaw his heart. But their differences don't fire the relationship as much as pace it, and chemistry between the characters is weak. Though the stylized sparkle of Christmas romance comes though at the end, the triumph of those who love love is more about worldview and persistence than about passion, and it sometimes feels as though Eva is bullying Lucas into accepting his potential for happiness. (Nov.) © Copyright PWxyz, LLC. All rights reserved.
(c) Copyright PWxyz, LLC. All rights reserved
Book list Can a widowed horror writer and a hopeless romantic make a perfect match? Lucas Blade's grandmother, Mitzy, sure seems to think so. She hires Eva Jordan to work her Christmas magic on Lucas' Fifth Avenue apartment while Lucas is writing in Vermont. Eva handles the culinary and creative aspects of Urban Genie, the event and concierge service she started with her two best friends. Upon arriving at the apartment right as the biggest blizzard in New York City's history is about to hit, Eva is surprised to find she's not alone Lucas has been hiding out with a severe case of writer's block. Eva always sees the glass half full, while Lucas knows that dark secrets lurk just under the surface. Despite or maybe because of the stars in her eyes, Eva turns out to be just right as the inspiration for the serial killer in the book he's writing. Morgan turns up the heat in the third book in her From Manhattan with Love series, after Sunset in Central Park (2016).--Quillen, C. L. Copyright 2016 Booklist
From Booklist, Copyright © American Library Association. Used with permission.
Library Journal As a surprise, Eva Jordan agrees to decorate for Christmas the apartment of the grandson of one of her events and concierge company's oldest clients (even preparing frozen meals) and finds crime writer Lucas Blade lurking in the dark instead of in Vermont where he is supposed to be working. Recently widowed Lucas has hit a massive writer's block and is hiding out at home. He certainly doesn't want an effervescent, captivating, Christmas-loving woman disturbing his peace-although it's exactly what he needs. A cynical novelist who doesn't believe in love and an optimistic chef who thinks it's more important than all else set the pages alight in a compelling romance that tempers the serious issues of loneliness, grief, and fear of commitment with the salutary joy of the season. VERDICT Sexy, touching, and often hilarious, this rewarding tale stands on its own while being the perfect conclusion to Morgan's popular series. RITA Award winner Morgan (Sunset in Central Park) lives near -London, England. © Copyright 2016. Library Journals LLC, a wholly owned subsidiary of Media Source, Inc. No redistribution permitted.
(c) Copyright Library Journals LLC, a wholly owned subsidiary of Media Source, Inc. No redistribution permitted.