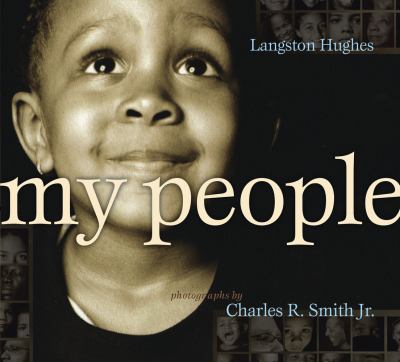 My People
by illustrated by Charles R. Smith Jr., written by Langston Hughes


School Library Journal K Up-Smith's knack for pairing poetry and photography is well documented in books such as Hoop Queens (Candlewick, 2003) and Rudyard Kipling's If (S & S, 2006). Here, his artful images engage in a lyrical and lively dance with Langston Hughes's brief ode to black beauty. Dramatic sepia portraits of African Americans-ranging from a cherubic, chubby-cheeked toddler to a graying elder whose face is etched with lines-are bathed in shadows, which melt into black backgrounds. The 33 words are printed in an elegant font in varying sizes as emphasis dictates. In order to maximize the effect of the page turn and allow time for meaning to be absorbed, the short phrases and their respective visual narratives often spill over more than a spread. The conclusion offers a montage of faces created with varying exposures, a decision that provides a light-filled aura and the irregularities that suggest historical prints. A note from Smith describes his approach to the 1923 poem. This celebration of the particular and universal will draw a wide audience: storytime participants; students of poetry, photography, and cultural studies; seniors; families. A timely and timeless offering.-Wendy Lukehart, Washington DC Public Library (c) Copyright 2010. Library Journals LLC, a wholly owned subsidiary of Media Source, Inc. No redistribution permitted.
(c) Copyright 2010. Library Journals LLC, a wholly owned subsidiary of Media Source, Inc. No redistribution permitted.
Book list Some 86 years after its original publication, Langston Hughes' poem My People finds celebratory interpretation in Charles R. Smith Jr.'s elegant sepia photography. Echoing the graceful simplicity of Hughes' verses, Smith's pictures capture African American faces of every size, shape, age, and hue, their countenances shining out from fields of glossy black. The expressions are as varied and captivating as the subjects, from crying babies to radiant children and adults. The pages outnumber the words, 40 to 33, allowing the text, printed in gold, to sweep across the darkness with the titular refrain. In an endnote, Smith shares the questions he asked himself as he began his photographic interpretation, noting Hughes' intent to celebrate the pride he had for his black brothers and sisters. In the aspects that he has captured, and their artful arrangement across the page, he does just that.--Barthelmess, Thom Copyright 2009 Booklist
From Booklist, Copyright © American Library Association. Used with permission.
Publishers Weekly "At just thirty-three words total, [this] poem is a study in simplicity," writes Smith (Rimshots; If); in its visual simplicity, his picture-book presentation is a tour de force. Introducing the poem two or three words at a time, Smith pairs each phrase with a portrait of one or more African-Americans; printed in sepia, the faces of his subjects materialize on black pages. "The night," reads the opening spread, across from an image of a man's face, his eyes shut; "is beautiful," continues the next spread, showing the same face, now with eyes open and a wide smile. The text, sized big to balance the portraits, shows up in hues that range from white to tan to brown-black, reflecting Smith's reading that "the words celebrate black people of differing shades and ages." An inventive design adds a short, shadowed row or column of small portraits to the edge of many spreads; these quietly reinforce the concept of "my people." Whether of babies, children or adults, Smith's faces emerge into the light, displaying the best that humanity has to offer-intelligence, wisdom, curiosity, love and joy. Ages 4-8. (Jan.) (c) Copyright PWxyz, LLC. All rights reserved
(c) Copyright PWxyz, LLC. All rights reserved