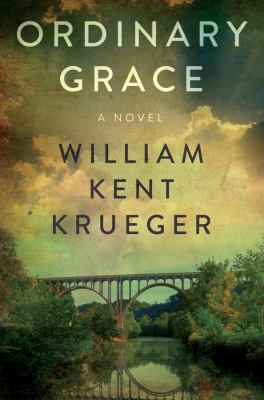 Ordinary grace : a novel
by by William Kent Krueger


Library Journal Krueger, primarily known for his Cork O'Connor mystery series (Trickster's Point), ventures into new territory with this coming-of-age stand-alone that has a hint of mystery. In 1961 New Bremen, MN, Frank Drum is a typical 13-year-old who likes baseball and getting into trouble. He has an 11-year-old brother, a Methodist minister father, a sister bound for Juilliard, and an artistically inclined mother. Narrating the story 40 years after the events unfold, Frank recalls the five deaths that occurred that summer that scarred many, especially his family. He and his brother grow up that summer as they see, hear, and experience tragedy and love that is part and parcel of the adult world. Verdict For fans of Wiley Cash's A Land More Kind Than Home or Krueger's other works, this is a touching read, with just enough intrigue to keep the story moving along.-Robin Nesbitt, Columbus Metropolitan Lib., OH (c) Copyright 2013. Library Journals LLC, a wholly owned subsidiary of Media Source, Inc. No redistribution permitted.
(c) Copyright Library Journals LLC, a wholly owned subsidiary of Media Source, Inc. No redistribution permitted.
Publishers Weekly Best known for the Cork O'Connor mystery series, Krueger (Trickster's Point) has produced an elegiac, evocative, stand-alone novel. The summer of 1961 finds thirteen-year-old Frank Drum living in small-town New Bremen, Minn. He and his younger brother, Jake, idolize their older sister, Ariel, a talented church organist who's also the "golden child" of their parents, WWII veteran and Methodist pastor Nathan and church music director Ruth. Nathan and Ruth befriend the accomplished musician Emil Brandt, a veteran left blinded by his service, who tutors Ariel in her music education. Meanwhile, Jake, who has a stutter, forms a close bond with Lise, Emil's deaf older sister and caretaker, while Ariel dates Emil's wealthy nephew, Karl. The Drums' peaceful existence is shattered, however, when Ariel fails to return from a late-night party. In the aftermath of her disappearance, Karl comes under suspicion, Ruth undergoes a crisis of faith, and dark secrets about New Bremen come to light. The small-town milieu is rendered in picturesque detail, accurate down to period-appropriate TV programs, for what becomes a resonant tale of fury, guilt, and redemption. Agent: Danielle Egan-Miller, Browne & Miller Literary Associates. (Mar.) (c) Copyright PWxyz, LLC. All rights reserved.
(c) Copyright PWxyz, LLC. All rights reserved
Book list Krueger, the author of the best-selling Cork O'Connor mysteries, largely set in Minnesota, has written a stand-alone novel that is part mystery but mostly an extended (and often overly extended) meditation. The narrator, Frank Drum, writes as a middle-age man looking back on a summer in 1961 in New Bremen, Minnesota, when he was 13; the Minnesota Twins were in their first season; and death, in five different instances, shook his family and their community in the Minnesota River valley. The first death is that of Frank's sometime friend Bobby Cole. The proximate cause was a train, but the mystery is whether Bobby stood in front of that train, or was pushed or placed there. More deaths follow, one of which rips apart Frank's family. This coming-of-age story is obviously an attempt to show how grace can work through the fissures of suffering. While the setting is well rendered, the characters are too flat, and Krueger keeps striking the same monologist's meditative note throughout, while most readers will long for variety in style.--Fletcher, Connie Copyright 2010 Booklist
From Booklist, Copyright © American Library Association. Used with permission.