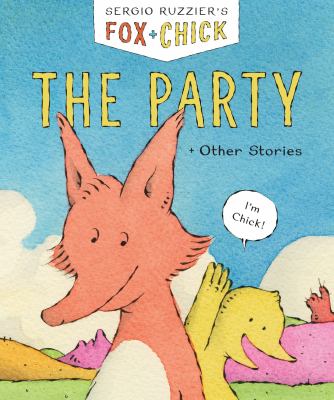 The Party and Other Stories
by Sergio Ruzzier


School Library Journal PreS-Gr 2-This easy reader-style picture book is actually three stories in one and stars two lovable and very different best friends. In "The Party," Fox is trying to read while Chick repeatedly interrupts him and requests to use his bathroom, where he proceeds to throw a raucous shindig with some other party animals. In "Good Soup," Fox digs in his garden accompanied by an indignant Chick who reminds Fox at each turn that he is supposed to be a carnivore, not a veggie-lover. In a fun twist, Chick eventually remembers that foxes are also "supposed" to eat little birds, and is glad that his friend breaks the norm. Finally in "Sit Still," Fox is painting a landscape when Chick buzzes by and offers to sit for a portrait. Chick has a long list of needs that prevent him from being able to pose, so Fox happily paints the landscape after all. In each story, Chick is the comic relief to Fox's straight man. Chick takes everything literally, while Fox plays the role of grumpy, but secretly genial, next-door neighbor. Pleasant and cartoonish pastel panels add to this enjoyable read. In the tradition of Frog and Toad and Elephant and Piggie, Fox and Chick will feel right at home in company of these other friendship tales. VERDICT Simple vocabulary, dialogue-only text, and situational comedy make this a winning choice as a confidence booster for children just learning to read. Recommended for picture book collections.-Lauren Younger, formerly at NYPL © Copyright 2018. Library Journals LLC, a wholly owned subsidiary of Media Source, Inc. No redistribution permitted.
(c) Copyright Library Journals LLC, a wholly owned subsidiary of Media Source, Inc. No redistribution permitted.
Book list Ruzzier kicks off a new picture-book series with this charmer, blending graphic-novel and early-reader conventions for young readers not quite ready to tackle chapter books. Adopting an odd-couple formula, the book's three short stories follow practical Fox and unpredictable Chick think Rabbit and Tigger through misunderstandings that challenge their friendship but never derail it. In The Party, Chick asks to use Fox's bathroom but neglects to mention he'd like to use it for a party. Needless to say, Fox isn't pleased. Chick's persistent questioning of Fox's vegetarian preferences comically backfires in Good Soup when he points out that foxes should eat things like moles and little birds. The final story, Sit Still, opens outside with Fox painting the landscape, but the serene scene is once more interrupted by Chick, whose desire to have his portrait painted is pitted against his inability to hold a pose. Painted in candy-hued watercolors with all text rendered in speech balloons or as sound effects, these humorous stories highlight how patience and understanding can make even the most unlikely friendships work.--Smith, Julia Copyright 2018 Booklist
From Booklist, Copyright © American Library Association. Used with permission.
Publishers Weekly Ruzzier (This Is Not a Picture Book!) kicks off a new comics-style early-chapter series, drawn with panels and dialogue balloons and starring an animal odd couple. Fox is an even-tempered reader, cook, and artist; Chick is a pain in the neck. In the first and funniest chapter, Chick asks Fox if he may use his bathroom, and then proceeds to throw a party in it (the "CRASH! THUD! SPLASH!" tips off Fox). Chapter two gets a little dark as Chick, who initially criticizes the vegetarian Fox for not being "a real fox," suddenly realizes that his soup-making friend is actually doing him a favor by not eating him. Chapter three centers on Chick's inability to sit still for a portrait. The root of their friendship remains an enigma-why does Fox tolerate such an annoying friend? But there's an easygoing, reassuring rhythm to the storytelling, and the simple text and sunny colors should engage nascent readers. Ages 5-8. Agent: Jennifer Laughran, Andrea Brown Literary Agency. (Apr.) © Copyright PWxyz, LLC. All rights reserved.
(c) Copyright PWxyz, LLC. All rights reserved